JBC Stations work with the JBC Exclusive Heating System which recovers tip temperature very quickly.
This increases work efficiency and allows the user to work with lower temperatures.
Thanks to automatic detection of the tool in the stand, JBC Soldering and Rework Stations allow the tools to enter into
Sleep & Hibernation Mode
when not being used. As a result,
tip life lasts up to 5 times longer
.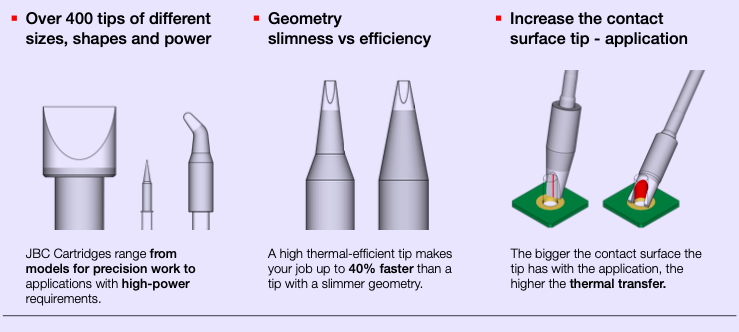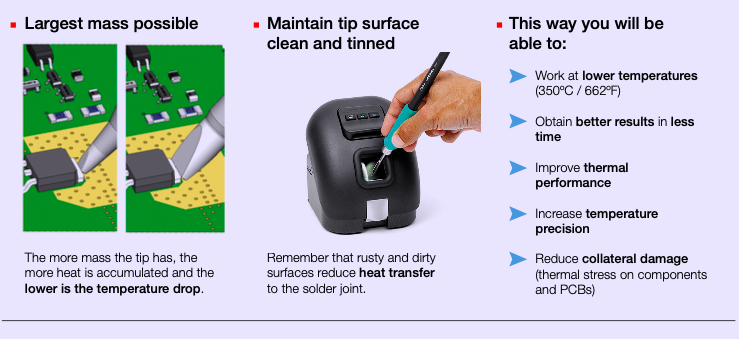 Our Cartridge Range is steadily growing as we are determined to respond to our clients specific needs, cooperating closely with them to create the right solution.
Does your soldering application require a special tip design?
Feel free to contact us at
and let us customize the best tip for your process.


Since 1929,
JBC
has been at the forefront in
developing soldering and rework tools for electronics professionals
and is now a worldwide renowned brand. Innovation, efficiency and reliability are the main features of a wide range of products designed to meet the most demanding requirements of professionals.
JBC is a global company with a distribution network covering 5 continents
, guaranteeing a solid commercial organisation and a fast and efficient service.