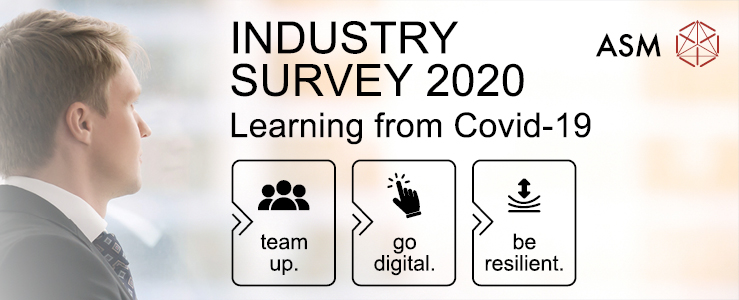 Global ASMPT survey on resilience: How electronics manufacturers want to become more crisis-proof
In September, ASMPT conducted a worldwide survey of electronics manufacturers on the Covid-19 crisis and its consequences. Almost 450 companies replied. How are electronics manufacturers responding to the pandemic and what are they doing to become more resilient in the future?
ASMPT is making a comprehensive report of the study available to anyone who is interested. Just click the button below. While the pandemic is hitting other industries much harder, it has nevertheless left its mark on the electronics manufacturing industry as well. According to just two findings in the survey, 55 percent of the respondents suffered from interruptions in their supply chains, and 42 percent suffered from declines in productivity. To respond, electronics manufacturers are pushing projects and measures that will make their operations more resilient in the future:
3 out of 4 respondents want to automate their production more heavily in response to the crisis, and almost 68 percent want to advance the digital transformation of their production operations and their business processes.
More than 70 percent expect much more online cooperation between manufacturers and suppliers in the areas of training, remote support, consulting, and other services.
One in three companies plan to subject their suppliers to special assessments on preventive Covid-19 measures.
The survey shows how important it is for electronics manufacturers to have a competent partner at their side.
4 out of 5 companies surveyed were aware that ASM had initiated special training and support activities during the crisis. The users of these services were highly satisfied with them and gave the 'Time4' offers 4 or 5 stars on average (the maximum possible was 5).

As the industry's technology leader, ASM supports digital transformation and automation projects for the integrated smart factory. The more smartly a company operates, the more flexible and resilient it will be.
Solutions such as ASM Command Center or ASM Factory Chat simplify and streamline the work of operators and technicians. And ASM Remote Smart Factory and ASM Equipment Center open the door to a wide range of remote access options (for internal or ASM employees) while complying with the toughest security standards.
With its international structure and its dense network of service locations, ASM guarantees the fastest possible delivery of spare parts and consumables for printers, SPI systems and placement platforms – always close to the customer.
Experts in the five ASM Centers of Competence (CoCs) provide application support – crisis-proof via webinar or over the web.
Since properly trained employees can be deployed more flexibly, the ASM Academy offers electronics manufacturers hundreds of online training seminars, tutorials, podcasts, and maintenance and repair instructions. They all make it easy for people to learn what they need to know at their own desk and on their own schedule.
To learn more about the survey results and what companies are doing to become more resilient, go to
www.asm-smt.com/en/be-resilient.