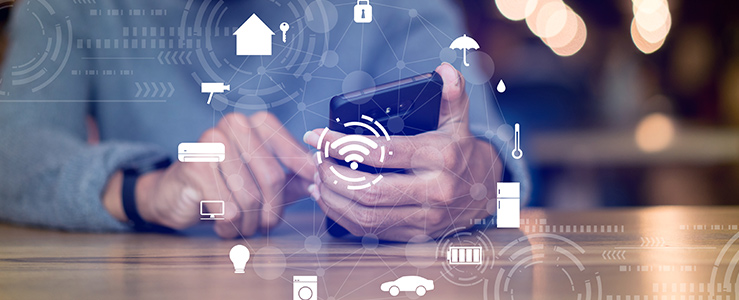 Pulse oximetry: Measuring the oxygen content of blood with LEDs
In order to measure the oxygen content reliably, LEDs with high performance, constant quality and low scattering are needed as light sources. Würth Elektronik offers suitable components.
Pulse oximeters take advantage of the fact that red and infrared light is absorbed differently by oxygen-rich and oxygen-poor blood: HbO2 absorbs more infrared light and less red light than Hb. Due to the higher reflection of red light it appears bright red. By contrast, Hb absorbs more red light and thus appears darker. Transmissive pulse oximetry usually uses a red LED in the range of about 650 nm and an IR LED in the range of about 900 nm. Both LEDs screen a fingertip and a phototransistor on the other side captures the relative amount of absorbed red and IR light. A micro-controller then determines the proportion of Hb and HbO2 and calculates the oxygen content from the measured parameters. With pulse oximetry it is possible to detect the oxygen content only of arterial blood. This is based on the fact that the amount of absorbed red and infrared light varies with every heartbeat due to the pulsating changes in blood volume. By contrast, veins, bones and tissue show relative constant absorption characteristics.
Reliable measurements need the right components
The right components are essential to reliably determine the oxygen content of blood. With the WL-SMTW and WL-SITW series, Würth Elektronik has suitable red and infrared LEDs in its portfolio. In addition there is a matching light sensor available: The phototransistor WL-STTW can reliably detect both red and infrared light. Although the component has the highest light sensitivity at a wavelength of 940 nm, it also detects light signals with a wavelength of 660 nm. Therefore only one single phototransistor is needed for the measurement. The perfect emitter-detector combination from Würth Elektronik for pulse oximetry and other IR applications is available from stock in any quantity
Read more