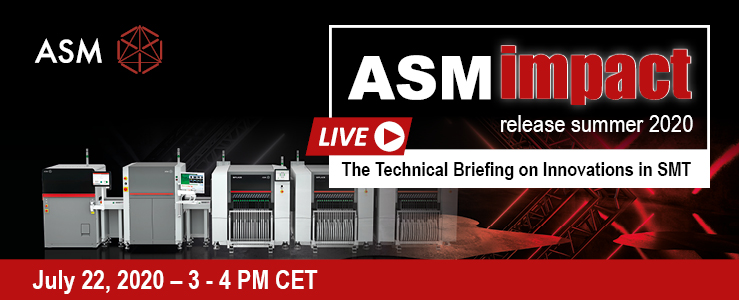 ASM Impact – Release Summer 2020: SMT technology leader presents new products in compact livestream
ASM's new releases for this summer are innovative, smart, and deliver great gains in productivity. ASM will present these new solutions, the premiere of the ASM Works software suite and many more innovations around the integrated smart factory in a compact livestream with expert chats and spin-off sessions.
At the center of the latest ASM Impact event will be the DEK TQ, DEK SmartStencil, ASM Printer Programming, the latest generation of the SIPLACE SX, the new software suite for the integrated smart factory, and many more.

This summer, ASM holds its first ASM Impact release event featuring its latest products as a livestream presentation. Viewers can chat live with ASM experts during the event or join subsequent spin-off sessions to get more detailed information. The ASM Impact event features expert discussions in the studio and remote links to ASM's development centers in Munich and Weymouth. You can get all this information conveniently at your desk with no need to travel and spend the night in a hotel.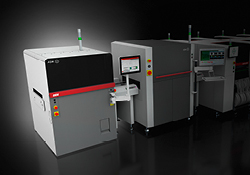 New DEK printer developments
Innovations for current and potential users of ASM printing solutions:
DEK TQ as the new platform for super-efficient high-volume production
­• Printing for 8 hours without a single manual assist ­• High-flow vacuum solution
Updates for all modern DEK printers:
­• DEK V1 station software with traceability for materials and toolings ­• SIPLACE Pro: Central data management for printing programs with ASM Printer Programming
Integration of ASM SmartStencil:
RFID-based lifecycle management for stencils. Works with stencils from any manufacturer and can be retrofitted. Scanning takes place on the DEK printer or with a handheld scanner.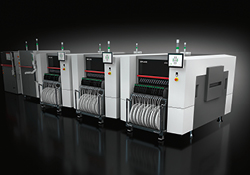 Innovations in SMT placement:
The next generation of the SIPLACE SX and new software functions
NEW: The latest generation of the SIPLACE SX
­• Improved placement heads for even more flexibility, precision, and performance ­• Third-party feeder interface for integrating special feeders ­• OSC, THT and clinching with the SIPLACE SX
New functions in SIPLACE Pro and the SIPLACE station software
­• PCB families for global adaptations ­• Expanded control and inspection functions
ASM Setup Center with additional verification functions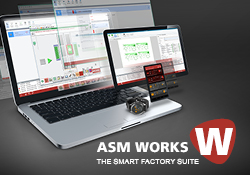 PREMIERE: ASM Works – the integrated smart factory suite
Faced with a complex and time-consuming software integration task? Build the software infrastructure for the smart factory quickly and reliably with ASM Works! ASM Works comes with all basic functions for the smart factory: roles and rights, simple integration via standardized interfaces, order planning, programming, setup preparation, monitoring, and remote support. ASM Impact – the technical briefing on innovations in electronics production. Livestream with expert chats and spin-off sessions. Register today for ASM Impact