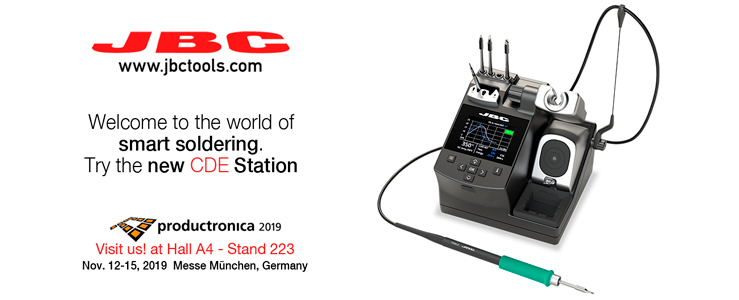 JBC presents the new CDE Station with Soldering Assistant Mode.
JBC revolutionizes hand soldering with the Soldering Assistant Mode. In real time, it enables you to analyze your performed soldering operations.
ASSISTANT MODE
A new an easy way to control the quality of your soldering throughout the whole process. The
Assistant Mode
is the solution for repetitive soldering processes. It's the first system to optimize traceability in soldering. Get greater
quality and control
in your production and improve your soldering production line more easily! Furthermore, the
Soldering Assistant Mode
makes this station perfect for operators with a low level of experience. In real time, the system compares all new soldering joints with the pre-stored soldering joint. This function gives the operator feedback, showing a color: red, orange or green along with a percentage to qualify the soldering process.
USER-FRIENDLY MENU with intuitive interface
A renewed user menu allows you to configure the station parameters easily. Set your proper soldering configuration to obtain the best soldering quality in just few steps!
COMMUNICATION
Connect your station to the
JBC Traceability System
by a USB cable and achieve industry 4.0 easily. Peripherals, Fume Extractors and Pedals can be directly connected to the CDE Station.
ALL IN ONE
Save space on your workbench. The
CDE
includes a Control Unit, Tool, Stand, Cartridge Extractor, Cartridge Storage Rack and Tip Cleaner in one compact device. The
JBC CDE Station
comes with the
JBC exclusive Heating System
and the intelligent
Sleep & Hibernation
features. It features all the our benefits such as station customization, full control of soldering processes and remote work management. We have definitely arrived in the world of Smart Soldering!
For more information please click here