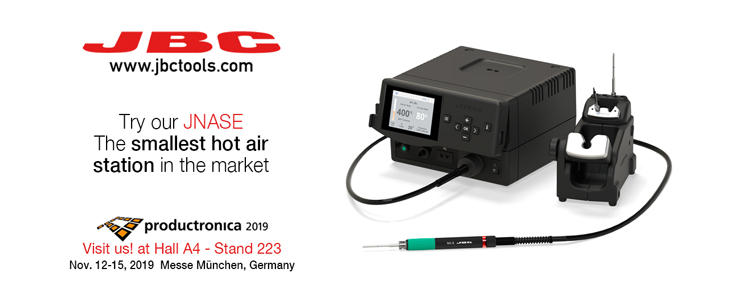 JBC introduce you the JNASE, the smallest Hot Air Station in the market
JNASE is the perfect tool to rework smallest SMT components like 0402,0201,01005 and 008004 under the microscope.
JNASE
, specially designed to work on HDI boards used in mobiles, laptops, high speed communication devices, military applications, etc. Since the JNASE enables flow regulation of temperatures and air at very low levels in order to avoid the expulsion/ movement of adjoining components,it is the perfect tool to rework the smallest SMT components such as 0402, 0201, 01005 and 008004 under the microscope.
Pick & Place
The station includes a
Pick & Place
Unit activated by
pedal
to position and remove components with high precision.
Quick tip Changer
The Quick Tip Changer facilitates the fast and safe use of different cartridge geometries. The
JNASE
is compatible with three cartridge sizes with outlet diameters of 0.8, 1 and 1.2 mm.
Connectivity:
With the software JBCSuite, the
JNASE
can be synchronized with the
NASE Station
and the two Preheater models,
PHSE
and
PHBE
, in order for them to work jointly and to perform your work process optimally.
New interface and renewed design
The new interface, specially designed for the new
JNASE
, has an intuitive user menu that allows configuring the station parameters easily.
Communication
: Connect your JNASE Station with the JBC Hand-Soldering Traceability System by just connecting a USB cable to the station and achieve industry 4.0 easily.
For more information please click here