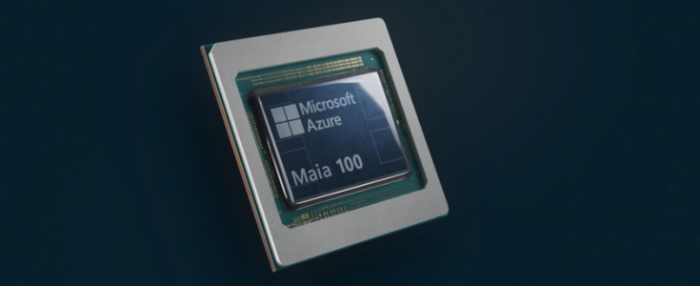 Products |
Microsoft unveils two 'home-made' chip products
Computing behemoth Microsoft has announced its entry into the AI chip space, setting up the company to compete with Nvidia, Google, Amazon and Intel.
It made the disclosure of two new chip products at the Microsoft Ignite conference in Seattle. The Microsoft Azure Maia 100 is designed for AI workloads, while the Microsoft Cobalt 100 CPU is pitched at general compute workloads on Microsoft cloud.
The two chips will roll out early next year to Microsoft's datacentres, initially powering the company's services such as Microsoft Copilot or Azure OpenAI Service.
Microsoft says the products will help it to meet the growing demand for compute power driven by cloud and AI breakthroughs. It describes the new chips as a 'last puzzle piece to deliver infrastructure systems that...can be optimized with internal and customer workloads in mind'.
As such, the in-house chips will nestle onto custom server boards, and be placed in tailor-made racks that fit easily inside existing Microsoft datacenters. The hardware will work hand in hand with Microsoft-made software.
"Software is our core strength, but frankly, we are a systems company. At Microsoft we are co-designing and optimizing hardware and software together so that one plus one is greater than two," said Rani Borkar, Corporate VP for Azure Hardware Systems and Infrastructure (AHSI). "We have visibility into the entire stack, and silicon is just one of the ingredients."

To complement its custom silicon efforts, Microsoft also announced new industry partnerships to provide more infrastructure options for customers. Microsoft launched a preview of the new NC H100 v5 Virtual Machine Series built for NVIDIA H100 Tensor Core GPUs, offering greater performance for mid-range AI training and generative AI inferencing. Microsoft will also add the latest NVIDIA H200 Tensor Core GPU to its fleet next year to support larger model inferencing with no increase in latency.
The company also announced it will be adding AMD MI300X accelerated VMs to Azure. The ND MI300 virtual machines are designed to accelerate the processing of AI workloads for high range AI model training and generative inferencing, and will feature AMD's latest GPU, the AMD Instinct MI300X. There's a full run-through of all the Ignite announcements here.