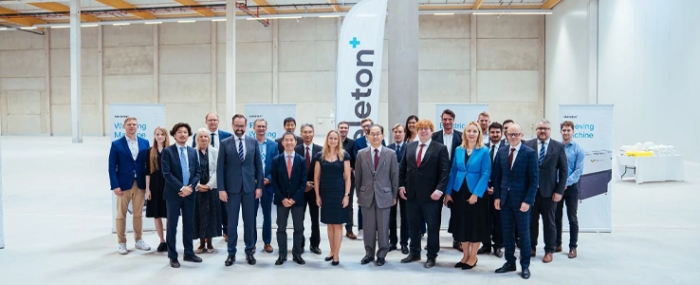 Business |
Skeleton unveils its Leipzig Superfactory
Estonian supercapacitor specialist Skeleton Technologies has unveiled its Leipzig Superfactory – a collaborative effort between Estonia, Japan, and Germany.
Since 2017, Skeleton has established a strong presence in Germany and the imminent completion och the Leipzig Superfactory is a significant milestone. The company first announced its plans to build the factory back in the summer of 2022. A total of EUR 220 million has been invested to scale the company's production of supercapacitors in Germany.
The new high-tech plant located in the town of Markranstädt will increase Skeleton's production capacity by up to 40 times and employ up to 240 people. Automated and digitalized mass production is scheduled to start by the end of 2024.
Beyond the company's production expansion in Germany, Skeleton says that it aims to fortify its presence in Asia. To strengthen the cooperation with its Japanese investor and strategic partner Marubeni Corporation, an investment agreement was signed to finance the completion of the Leipzig factory and to increase sales of the energy storage products produced at the plant in Asian markets.
"We proudly showed what our future production will look like and celebrated the importance of strong partnerships and cooperation between Estonia, Japan and Germany to boost cleantech manufacturing. We could not develop and achieve such projects without strong partners like Marubeni and our other international allies who share the same values, particularly in times of protectionism," the company writes in an update.