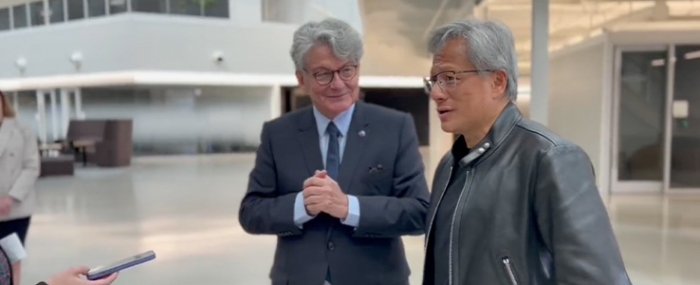 Business |
Nvidia is "extremely likely" to invest in Europe
Jensen Huang, CEO of Nvidia Corp, seems very confident that the semiconductor company will invest in Europe.
Last week, Thierry Breton, the EU's Commissioner for Internal Market, travelled to San Francisco to meet with several tech CEOs, among them Nvidia CEO Jensen Huang.
During this meeting, the commissioner suggested "that Nvidia should invest a great deal more in Europe and that Europe is going to be a wonderful place to build the future of Nvidia," according to a Bloomberg report.
All regions and major economies – Europe, the US, South Korea, Japan, and India – have created giant "Chips Acts" as they strive for strategic independence on semiconductors. The US CHIPS and Science Act has already sparked billions in private investments and the European equivalent is starting to see real traction. Companies such as STMicroelectronics, GlobalFoundries, Wolfspeed and Intel have all recently announced massive European projects that will seek support from the EU.
Nvidia will, according to Bloomberg, also look into investing in Europe.
"I would say [investment in Europe] is extremely likely, and the reason for that is Nvidia would like to be a global international company." Huang is cited telling reporters following the meeting with Breton.