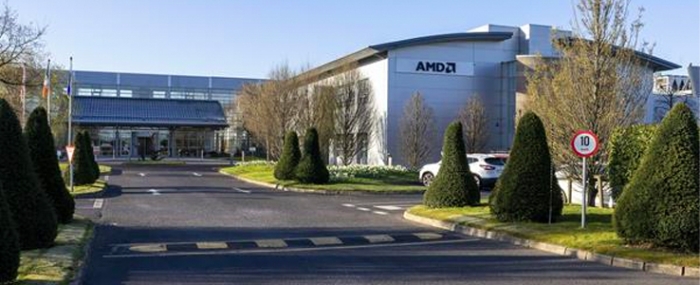 Business |
AMD plans to invest millions in Ireland
Through an investment of USD 135 million, AMD plans to continue its growth in Ireland. With the investment, the company intends to fund several strategic R&D projects through the addition of up to 290 highly skilled engineering and research positions, as well as a range of additional support roles.
AMD is making this push in Ireland to expand its adaptive computing research, development and engineering operations in the country. Ruth Cotter, senior vice president, Marketing, Communications and Human Resources at AMD, says in a press release that the company is committed to continuing to both drive innovation in Ireland and to support the European semiconductor ecosystem.
"For nearly three decades, Ireland has been a flagship European R&D centre developing adaptive computing solutions, drawing from a strong and highly-skilled workforce," says Ruth Cotter. "Through this investment, our R&D teams in Ireland will design innovative high-performance and adaptive computing engines to accelerate data centre, networking, 6G communications and embedded solutions while taking a leadership position on artificial intelligence."
According to the press release, the Irish government, through IDA Ireland, is supporting the expansion. How that support will look more specifically, has not been made official.
Prior to the acquisition of Xilinx by AMD in 2022, Xilinx partnered with IDA Ireland on a number of occasions to advance semiconductor innovation in Ireland. Most recently, in 2017, Xilinx announced a USD 40 million investment to expand its research, development and engineering operations, as well as recruit over 100 new skilled employees.
The Irish site was first established in 1994 as the first purpose-built Xilinx site outside of the U.S. and began its operations a year later with a focus on manufacturing, operations support, engineering and administration services. Since the acquisition of Xilinx, Ireland is now home to one of the largest AMD R&D sites in Europe.