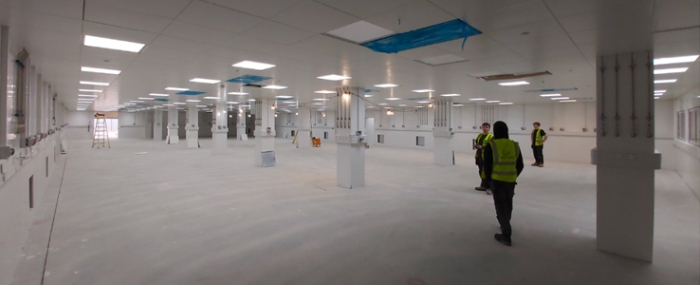 Business |
CIL's new semiconductor packaging facility is taking shape
It's been 6 months since CIL announced its newly created and UK-based advanced semiconductor packaging facility. The 46,000 square-foot facility – boasting a 15,000 square-foot SO7 (Class 10,000) fully qualified cleanroom – will be ready to come online in late May 2023.
Since Evertiq last reported on the project in September of 2022, Custom Interconnect Ltd (CIL) has also taken the decision to segregate a part of this cleanroom to add a separate wafer dicing area complete with a DISCO DAD3361 dicing saw and all of the necessary ancillary equipment.
The company states in an update that this equipment is already installed, commissioned and currently running early engineering trials. The wafer dicing equipment and all of CIL's current micro-electronics and power semiconductor device packaging equipment will soon start to transfer out of CIL's existing facilities in Andover UK starting late May 2023 and onwards. And it's a hefty list of equipment that needs moving, a total of 33 pieces of equipment will be transferred, along with 50 staff members out of which 30 are engineers.
CIL believes this facility, process equipment and staff will create the largest semiconductor packaging facility in the UK.
Starting in late May 2023, all of the staff involved in CIL's semiconductor and power packaging activities will move from CIL's two existing facilities into this new semiconductor packaging facility. As with the cleanroom, the offices are nearing completion and will initially house around 30 semiconductor packaging engineers of all levels.
To complement this semiconductor packaging facility, CIL has also upgraded its existing SMT PCBA equipment consisting of five SMT lines and associated 3D AOI, Flying probe test and IPC2 / three soldering at its CIL House facility also in Andover UK. This facility totalling 24,000 square feet is being steadily upgraded and added to, the company writes in the press release.
Over the last 2 years, CIL has seen its turnover increase from GBP 15M to GBP 27M and its headcount increase from 135 persons to the 187 employees it has today. Over the next 12 months, as well as bringing online its advanced semiconductor packaging facility, it will also be adding new processes and equipment to its current PCBA service offering to further support its customers' development and production needs.
With the new packaging facility, CIL will have a total of 80,000 square-foot of production space at its three Andover UK sites.