Business | November 08, 2017
Elmos ups sales with 9.3% to EUR 61.6 million
Elmos Semiconductor succeeded in increasing both sales and earnings year on year in the third quarter of 2017.
Sales increased by 9.3 percent to EUR 61.6 million. EBIT grew to EUR 10.3 million for an EBIT margin of 16.7 percent. Capital expenditures stood at EUR 8.7 million, or 14.2 percent of sales, in the reporting period. At EUR 0.9 million, adjusted free cash flow in the reporting period was slightly positive.
"Demand for Elmos products remains positive. Over the course of the year, Elmos has launched significant initiatives and capital expenditures in order to prepare for further growth," says Dr. Anton Mindl, CEO of Elmos Semiconductor AG.
Elmos expects sales growth for 2017 in the upper single-digit percentage range. The EBIT margin will stand at more than 12 percent. Capital expenditures for property, plant and equipment and intangible assets, less capitalised development expenses, will amount to less than 15 percent.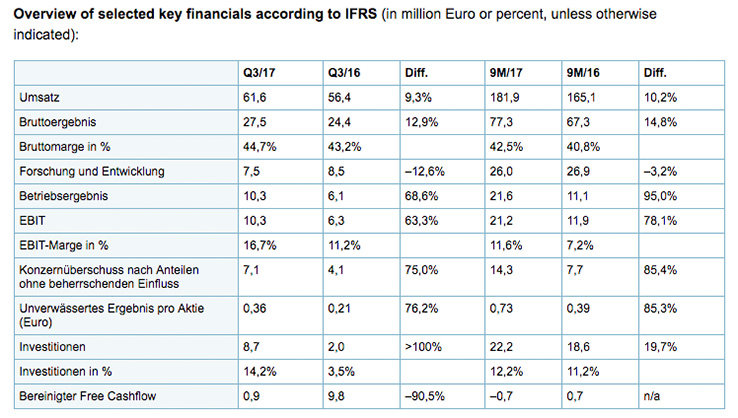 The adjusted free cash flow will be negative. The forecast is based on an exchange rate of 1.10 USD/EUR. /
© Elmos Semiconductor
Load more news