Business | August 07, 2017
Record net sales of USD 972.1M for Microchip
Microchip Technology reported net sales of USD 972.1 million (for the quarter ended June 30, 2017), up 7.7 percent sequentially and up 15.2 percent from the year ago quarter. The updated guidance provided on June 5, 2017 was net sales of USD 943.3 to 956.8 million.
GAAP net income from continuing operations for the first quarter of fiscal 2018 was USD 170.6 million, or 70 cents per diluted share, up from GAAP net loss from continuing operations of USD(109.2) million, or (51) cents per diluted share, in the prior year's first fiscal quarter. The prior year's GAAP net income results were significantly adversely impacted by purchase accounting adjustments associated with our Atmel acquisition.
"Our June quarter financial results were extremely strong and represent an acceleration of our organic growth with our Microchip 2.0 initiative," said Steve Sanghi, Chief Executive Officer. "Microchip 2.0 combines the product, technology, system and employee strength of Microchip and its previous acquisitions and allows us to provide total system solutions to our customers by selling multiple products into the circuit boards that drive their end applications."
Mr. Sanghi added, "Our net sales were at record levels and well above the high end of our revised guidance. Our non-GAAP net sales for the June quarter were up 15.2 percent from the June quarter of a year ago. It is noteworthy that our year-over-year non-GAAP net sales comparison was not impacted by acquisitions since Atmel's full quarter revenue results were included in our June 2016 quarter net sales. GAAP net sales for the June 2017 quarter were up 21.6 percent from the June quarter of a year ago. Our gross margin percentage and operating profit percentage each exceeded the high end of our guidance on both a GAAP and non-GAAP basis and our earnings per share exceeded the high end of our revised guidance on both a GAAP and non-GAAP basis. Our non-GAAP gross margin crossed the 60 percent milestone and non-GAAP operating profit exceeded 37 percent for the first time. Non-GAAP earnings per share were up 56% from the June quarter of a year ago due to improving sales, gross margin percentage, operating expense leverage and successful execution of our core business as well as accretion from our acquisitions."
"Our Microcontroller businesses performed very strongly in the June quarter with revenue being up 9.5 percent sequentially compared to the March quarter, setting a new record in the process," said Ganesh Moorthy, President and Chief Operating Officer. "We continue to see customers using microcontrollers that originated from Atmel's heritage express confidence in Microchip's stewardship of these product families. As a result we are seeing more designs that are in the pipeline going to production and ramping in volume. We are also seeing continued growth in our design-in funnel which we expect will drive future growth as these designs progress into production over time."
Mr. Moorthy added, "Our analog product revenue was up 3.7 percent sequentially in the June quarter compared to the March quarter, and also set a new record in the process. Our transformation to Microchip 2.0 with a more powerful Total System Solution approach is enabling us to successfully find more opportunities to attach Microchip's vast portfolio of analog products to Atmel microcontrollers and microprocessors at multiple customers and applications. This effort should contribute to further revenue over time as these new design wins go to production."
Eric Bjornholt, Microchip's Chief Financial Officer, said, "Cash flow from operations in the June quarter was a record USD 345 million. As of June 30, 2017, the consolidated cash and total investment position on our balance sheet was USD 1.65 billion. Our inventory at June 30, 2017 was at 100 days and was the lowest in 7 years. Our distributor inventory at 31 days was also on the low end of our normal range. Despite our recent manufacturing ramp, we have not been able to grow our inventories since all of the additional output is getting shipped for revenue. We are projecting Microchip's inventory at September 30, 2017 to be between 99 and 101 days, which is essentially flat to the June quarter levels."
Second Quarter Fiscal Year 2018 Outlook: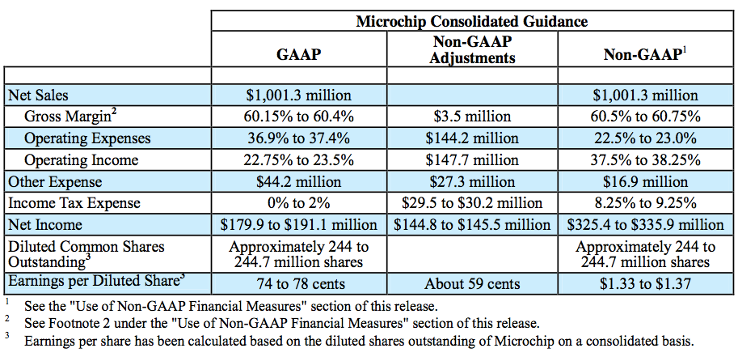 © Microchip
Load more news