Components | April 13, 2015
Worldwide semi foundry market grew 16.1 percent in 2014
The worldwide semiconductor foundry market grew 16.1 percent in 2014 to achieve USD 46.9 billion in revenue, according to final results by Gartner.
"2014 has been the third consecutive year when foundries have achieved impressive 16 percent revenue growth," said Samuel Wang, research vice president at Gartner. "A number of factors have made 2014 a robust year for foundries — inventory stocking in the second quarter by customers, increase of units sold in ultramobiles, the strength of the Apple's supply chain riding the success of the iPhone 6 and 6 Plus in the second half of the year, a conversion of integrated device manufacturer (IDM) revenue to foundry revenue and wafer demand from the early adoption of wearables."
Among the top players, the leader, TSMC, gained market share to reach 53.7 percent, up from 49.8 percent in 2013. TSMC increased its revenue by USD 5 billion in just one year due to the success of advanced technologies of 28 nanometers (nm) and 20 nm. Returning to the No. 2 position, United Microelectronics Corp. (UMC) had USD 4.62 billion revenue in 2014, representing 9.9 percent of the foundry market share, thanks to its recent catch-up of 28-nm technology. The No. 3 position went to Globalfoundries with USD 4.4 billion revenue, representing 9.4 percent of the market.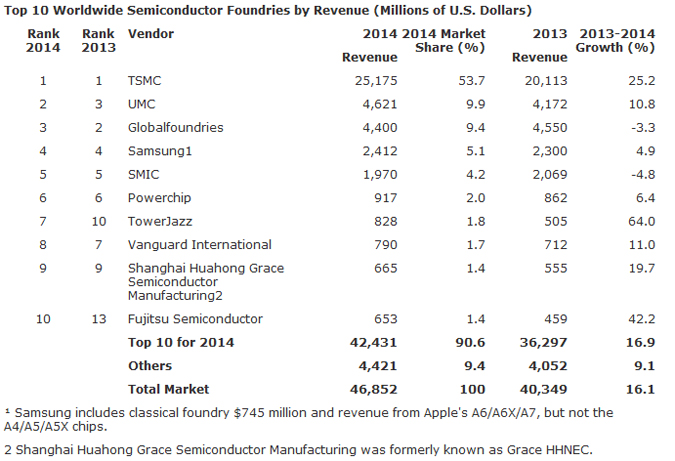 The foundry market will remain a seasonal industry due to the scheduled introduction of electronics equipment, and therefore the second and third quarters will be the strongest quarters each year. The only difference in 2014 was that the fourth quarter turned out to be stronger due to good momentum from the Apple supply chain. The wafer demand from touchscreen controllers, display driver chips and power management integrated circuits (ICs) made with legacy technology nodes has caused a tight supply of 200-millimeter (mm) wafers at foundries and the situation will not be much improved in 2015. As a result, foundries are now looking to expand 200-mm capacity.
Significant wafer fab purchasing momentum in the first half of the year resulted in strong recovery of semiconductor production demand throughout 2014. While traditional notebook and desk-based PC unit production declined and mobile phone unit production grew at low single digits, ultramobile unit production grew faster in 2014. In addition, the hype surrounding the Internet of Things, including wearable and smart watches, prompted some players to stockpile off-the-shelf chips as early as the second quarter of 2014, in order to prepare for new product announcements.
2014 saw a big increase in foundry revenue from fabless customers while revenue from integrated device manufacturer customers remained flat. System manufacturer customers provided a boost to foundry revenue, mostly due to Apple's 20-nm business at TSMC.
-----
Data and images
© Gartner
Load more news