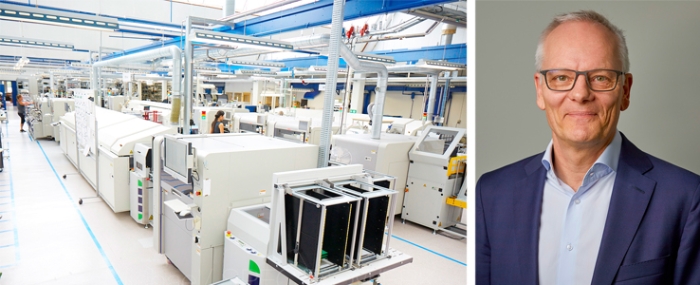 Electronics Production |
Continued high activity for GPV in Q3
Danish-based EMS GPV reported sales of DKK 2.5 billion (EUR 335.16 million) in the third quarter and an EBITDA of DKK 197 million (EUR 26.41 million), a clear increase compared to the same quarter last year.
Compared to the third quarter of 2022 GPV saw its revenues increase by 120% to DKK 2.5 billion (EUR 335.16 million). This was primarily due to the combination with EMS provider Enics, but sales were also driven by stronger-than-expected customer demand together with higher component and material prices.
The company states that the higher material prices and material PPVs have put pressure on margins throughout the year, however, the Q3 earnings were better than expected with EBITDA rising to DKK 197 million EUR 26.41 million) compared to DKK 96 million (EUR 12.87 million) in the same quarter last year.
GPV has increased its working capital to DKK 2.8 billion (EUR 375.37 million) at the end of the third quarter from DKK 1.7 billion (EUR 227.90 million) at the end of the third quarter 2022 – primarily due to the combination with Enics.
The positive development means that for the first three quarters of the year, revenue now stands at DKK 7.9 billion (EUR 1.05 billion), an increase of 140% compared to last year.
GPV says in the press release that capacity utilisation at the company's 19 factories has in general been high.
Back in the fourth quarter of 2022, GPV launched an investment programme to expand capacity at both new and old sites. As part of the programme, the company completed the construction of a new mechanics factory in Thailand and a new electronics factory in Sri Lanka, which has also significantly increased capacity:
"It is important that we have the necessary capacity matching customer demand. Some customers have become increasingly focussed on region-for-region production. The common denominator is the demand for high product quality and high delivery reliability, which is also the reason why we are in the process of doubling our total production area in Mexico to 8,500 sqm and why we are expanding in Slovakia with an additional 11,000 sqm electronics factory. Both are expected to be operational in the first half of 2024," says CEO of GPV, Bo Lybæk.
GPV says that Q4 2023 is expected to be affected by some customers postponing orders, initiating de-stocking, and reducing their expectations.
"It is still too early to say if there is a drop in demand, but we are seeing customers starting to de-stock. Therefore, we expect the activity level to be slightly lower in the fourth quarter," says Bo Lybæk.