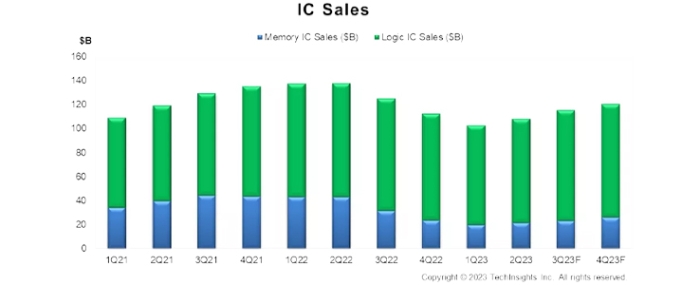 Analysis |
Semiconductor manufacturing industry set for Q4 recovery
The global semiconductor manufacturing industry is on track for recovery in the fourth quarter of 2023, setting the stage for continued growth in 2024, SEMI says in a report prepared in partnership with TechInsights.
Electronic sales are predicted to register a robust 22% quarter-over-quarter increase in Q4 2023, adding to 7% growth posted in Q3 2023. IC sales are expected to rise 4% sequentially after improving 7% in Q3 2023 as end demand improves and inventories normalise.
Despite the electronics and IC sales improvement, semiconductor manufacturing indicators remain soft. Fab utilisation rates and capital expenditures continue to decline in the second half of this year. Overall, CapEx on non-memory is expected to outperform memory in 2023, but even spending in the non-memory segments has begun to weaken. Total capital expenditures in Q4 2023 are hovering at the levels seen in Q4 2020.
While overall semiconductor capital equipment sales are declining in line with capital expenditures, the contraction in wafer fab equipment spending has turned out to be much shallower than expected this year. Furthermore, back-end equipment billings are projected to increase in Q4 2023.
"While semiconductor markets have seen year-over-year declines the last five quarters, year-over-year growth is expected to return in the fourth quarter of 2023 as production cuts have worked their way through the supply chain," said Boris Metodiev, Director of Market Analysis at TechInsights, in a press release.
Metodiev continues to say that on the other hand, front-end equipment sales have been performing much better than the IC market, buoyed by government incentives and the filling of backlogs, strength expected to continue next year.
"Despite low fab utilization rates and slowing capital expenditures in the second half of 2023, we expect back-end equipment billings to bottom in Q4 2023," adds Clark Tseng, Senior Director of Market Intelligence at SEMI. "This will mark an important turnaround for the chip manufacturing industry, signaling a recovery from the downturn with building momentum in 2024."