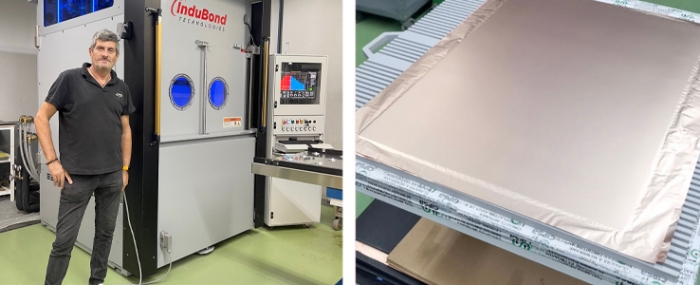 PCB |
Cipsa Circuits invests in new InduBond system
Spanish PCB manufacturer Cipsa Circuits has invested in a new InduBond Technologies SL Xpress 360x2 Induction heating lamination press.
The new InduBond Xpress has successfully been implemented at the PCB manufacturer's production plant in Barcelona, Spain.
The InduBond X-Press 360 is described as a new way of laminating PCB, using Induction Heating Technology to deliver precisely the energy needed to cure the resins with no thermal delays in any direction of the stack. X, Y and Z direction. Cold Cycle is also done in the same chamber by forced air controlling air flow speed and water temp.
"The combination of simplicity of the process, flexibility to press any materials in any thickness we require, real time temperature measurement with close loop regulation control, the cleanliness of any mass-lam process and the excellent design and workmanship we found upon evaluating the Indubond Xpress," says Nuria Vidal, General Manager at Cipsa Circuits, in a press release, "not to mention the excellent price/performance ratio and fast ROI, led us to make the decision for this system. in addition, this system It really uses a minimal space and the energy efficiency is very high."