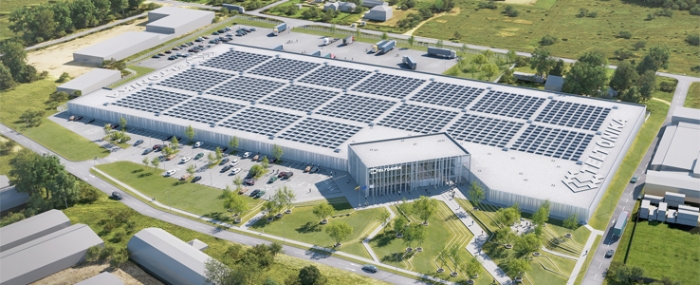 PCB |
Adeon receives massive order for Teltonika's new PCB factory
Adeon Technologies, a Dutch distributor of equipment for the European PCB industry, has received multiple purchase orders from Teltonika to supply the company with numerous types of equipment for their new PCB manufacturing plant in Vilnius, Lithuania.
In a press release, Adeon explains that the initial conversation between the companies started in early 2022 and revolved around offering solutions and providing plans for installation training and long-term support. Teltonika's new PCB plant will be the first new volume PCB factory to be built in Europe in more than 20 years. And according to Adeon who will supply a big chunk of the equipment, the factory will see an extremely high level of automation.
"Adeon Technologies is truly proud of having been involved from an early stage and extremely honoured to have been selected as one of the leading supply partners in the project," the Dutch company writes in the press release, adding that "Teltonika's new PCB factory marks a true milestone for making steps to secure crucial PCB manufacturing in Europe."
Installation of the ordered machines is expected to take place in due course during 2024, and Adeon has already assigned a project team to ensure a smooth delivery and implementation of the equipment. And looking at the order – It's a long shopping list for the future plant.
In alphabetic order, the following equipment will be supplied by Adeon Technologies.
ATG-LM:
multiple A9-A Flying Probe Electrical Test Equipment with Dual Shuttle, automatic loading & unloading.
LM-400:
Universal Grid Electrical Test Equipment with integrated loading & unloading.
CIMS:
multiple Galaxy AOI & Verification systems for Inner & Outer Layer Inspection, including full automation
supplied by the company Benmayor from Spain.
LHS:
Jetrite Inkjet Printing System for Legend. Multiple colours possible and proven track record with highest lifetime of Printheads.
Mach3Lab:
X-Check X-Ray Layer Registration Inspection System.
Mass:
The all new APC (Automated Plugging Cell). The line consists of 2x VCP Vacuum Via Filling Units and 1x Scavenger. The line will be managed by a 6 Axis Robot system and offers the capability to connect to a Mass vertical Oven.
Pola & Massa:
Multiple Brushing & Deburring Systems for accurate Surface Treatment, Deburring, Cleaning and miscellaneous (Inner/Outer) Layer preparation, Press Plate cleaning.
SÜSS MicroTec:
Multiple JETx Inkjet Soldermask systems with Benmayor integrated automation for panel flipping.
Ucamco:
Multiple Seats of UcamX Pro+ CAM Software for Datapreparation; Integr8tor Pre-sales CAM Software for automatic data analysis and classification linking to Quoting Software, CAM and electronic customer communication.
Valentino Facci:
Octopus automated pinning and taping of drillstacks & multiple single pinning, depinning and taping units.
XACT-PCB:
Gemini Linear Software tools to control registration of layers, determine any material shift and/or material expansion prior to the manufacturing process with predicting the correct scaling values for all PCB construction types.