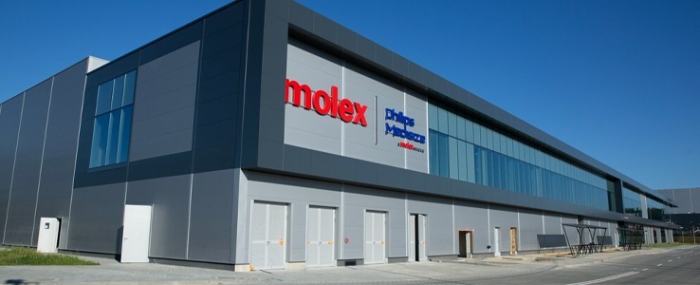 Electronics Production |
Molex boost European manufacturing with new Polish campus
connectivity solutions provider Molex is launching a major expansion of its global manufacturing footprint with the opening of a new campus in Katowice, Poland.
The facility's initial 23,000 square metre manufacturing space will serve as a central location to help facilitate delivery of advanced medical devices for Phillips-Medisize, a Molex company, as well as electric vehicle and electrification solutions for Molex customers.
However, the company is planning for the future, with an expansion of up to 85,000 square meters being built into Molex's growth plans for the facility. The new campus expands Molex's presence in Poland, adding to existing sites in Rokitki and Sulęcin.
"The Katowice campus will expand our European footprint, providing our pharmaceutical, diagnostic and medtech customers with new capabilities and the expert support they need to bring innovative new products to market," says Paul Chaffin, Phillips-Medisize SVP and president of Molex Medical and Pharma Solutions, in a press release.
In total, Molex has invested USD 110 million in these facilities so far. According to the company, the site will have capabilities such as advanced medical device assembly, packaging, drug handling and injection moulding. Additionally, the campus will manufacture interconnect battery solutions for electric vehicles and high-power busbar solutions for Molex's electrification business.
The site in Katowice will complement Phillips-Medisize's existing operations at six European manufacturing sites in Donegal and Sligo, Ireland; Struer, Denmark; Trhove Sviny, Czech Republic; and two locations in Kontiolahti, Finland.
The large pool of skilled manufacturing and engineering resources in the Katowice area is said to have played a major role in influencing Molex's selection of the site location. At planned capacity, the first facilities within the campus will employ approximately 350 employees, including highly skilled production operators, design engineers and quality specialists.