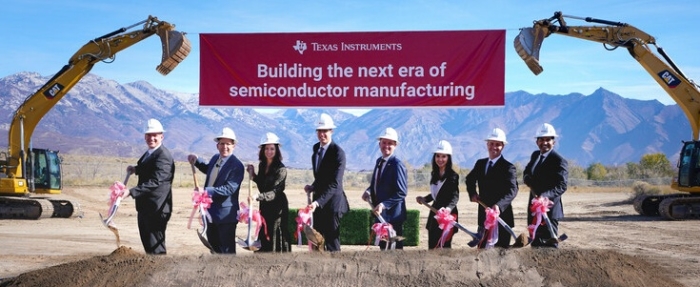 Electronics Production |
TI breaks ground on $11 billion 300 mm wafer fab
Texas Instruments has started construction of its new 300-mm semiconductor wafer fabrication plant in Lehi, Utah.
The company, which announced the new facility in February, is investing USD 11 billion in the project and will create approximately 800 new jobs.
This new site is located next to the company's existing fab, LFAB. Once completed, the two Lehi facilities will operate as a single fab and will manufacture tens of millions of analog and embedded processing chips per day from 2026.
Texas Instruments President and CEO Haviv Ilan joined Utah Governor Spencer Cox and community leaders at the ground breaking event. The governor proclaimed the project as the largest economic investment in state history.
"Today we take an important step in our company's journey to expand our manufacturing footprint in Utah. This new fab is part of our long-term, 300-mm manufacturing roadmap to build the capacity our customers will need for decades to come," said Ilan.
TI says LFAB2 will be one of the company's most environmentally efficient wafer fabs with a goal to be powered by 100% renewable electricity. It is expected to recycle water at nearly twice the rate of TI's existing fab in Lehi. The new facility will complement TI's existing 300-mm wafer fabs in Dallas, Richardson and Sherman, Texas.