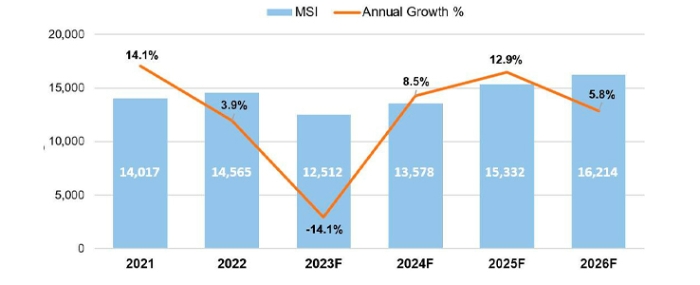 Analysis |
Silicon wafer shipments to rebound in 2024 after 2023 dip
Global shipments of silicon wafers are projected to decline 14% in 2023, to 12,512 million square inches (MSI) from the record high of 14,565 MSI in 2022 before bouncing back in 2024 as wafer and semiconductor demand recovers and inventory levels normalise, reports SEMI.
Continuing softness in demand for semiconductors and challenging macroeconomic conditions are driving the 2023 decline.
Momentum from the 2024 rebound is expected to continue through 2026, with wafer shipments setting new highs as silicon demand increases to support artificial intelligence (AI), high-performance computing (HPC), 5G, automotive and industrial applications.
Silicon wafers are the fundamental building material for the majority of semiconductors, which are vital components of all electronic devices. The highly engineered thin disks are produced in diameters of up to 12 inches and serve as the substrate material on which most semiconductor devices, or chips, are fabricated.
---
*Total Electronic Grade Silicon Slices – Excludes Non-Polished and Reclaimed Wafers
*Shipments are for semiconductor applications only and do not include solar applications