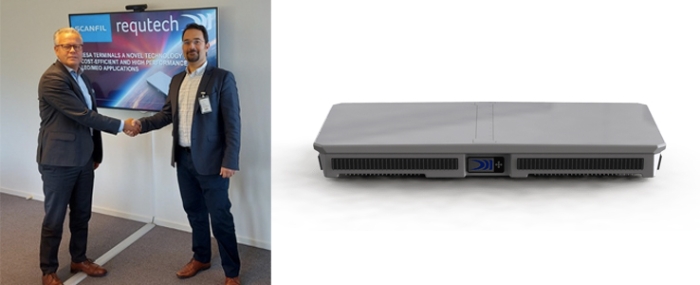 Electronics Production |
ReQuTech choses Scanfil as a manufacturing partner
ReQuTech, a Swedish developer of integrated systems for satellite communications, and EMS provider Scanfil will ramp up production of ReQuTech's next-gen satcom ground terminals.
The RESA-series by ReQuTech is the next-generation satcom ground terminals, an advanced phase array terminal that allows for high throughput for on-the-paus and on-the-move satellite communications.

ReQuTech and Scanfil will now work together to ramp up production of RESA Ku and Ka-band terminals during the fourth quarter of 2023 and early 2024. The companies inked a framework agreement for final assembly in 2022 and said that they will now expand their collaboration to include long-term production.
"We are very pleased that ReQuTech has chosen Scanfil as a manufacturing partner to enable its growth journey. It feels great to enter into the production phase and sign a new long-term partnership agreement with ReQuTech, as a market leader in antenna applications", says Steve Creutz, Managing Director at Scanfil Åtvidaberg in a press release.
The current goal is to gradually reach a production of a few hundred RESA M Ku and Ka Multi-Orbit terminals per month by the first quarter of 2025.
"The strategic production partnership and securing long-term volume production is of utmost importance for ReQuTech Partners at this moment. We value our cooperation with Scanfil and our engineering and production cooperations with our different teams working together over the past years have been a great success," adds ReQuTech CEO Omid Sotoudeh.