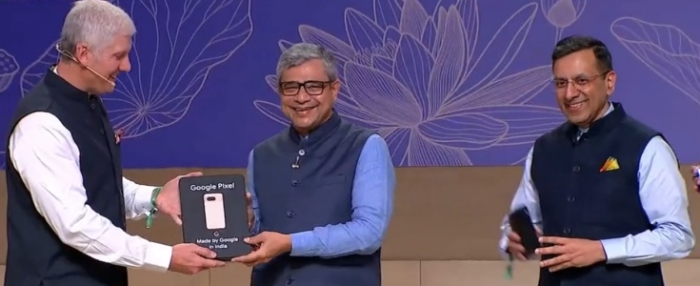 Electronics Production |
Google to start manufacturing Pixel smartphones in India
India has made another breakthrough in its mission to become a global electronics superpower: it's agreed a deal with Google to make Pixel devices.
Google confirmed it will start local manufacturing of the Pixel 8 and Pixel 8 Pro, and expects to ship India-made products from 2024.
The decision was announced by Rick Osterloh, Senior VP of Devices and Services at Google, and Ashwini Vaishnaw, the IT Minister for India, at Google's annual India event on Thursday.
"We are partnering with international and domestic partners to produce Pixel smartphones locally. It's an early step towards expanding our production here to meet the local demands for Pixel devices and even more importantly it's a huge step forward in Google's commitment to India," said Osterloh. He declined to name the manufacturing partners.
Vaishnaw commented that the news was another vindication of the Indian government's Make-in-India and Digital India schemes to attract investment into the country.
He said: "Mobile manufacturing was practically negligible [in India] nine years back...today we have close to USD 44 billion in mobile manufacturing and exports of mobile phones is at USD 11 billion."
With this announcement, Google joins Apple in committing to India. Apple started manufacturing the new iPhone 15 device at a plant in India in August as part of its efforts to diversify its global production away from China.