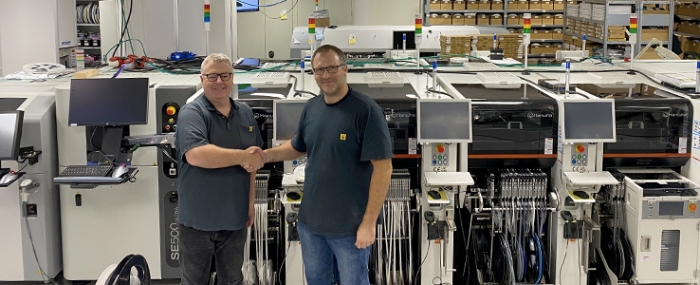 Electronics Production |
GP Elektronik upgrades its machine park
Danish capital equipment supplier Cynergy has been chosen as the vendor of a new combined High Mix /High-speed placement line to meet GP Elektronik's requirement to answer demands for capacity and flexibility – all in the same package.
GP Elektronik, based in Odense, Denmark, started out as a small CAD design bureau specialising in PCBs – but today the company is a fully fledged EMS provider focusing on high value and rapid turnaround.
The EMS provider has invested in a new HM520 platform from Hanwha. The line, consisting of initially four dual lane modules with simultaneous mixed production on front/rear lane capability and with a top speed of 332.000 CPH, was installed and ran the first boards just less than four weeks from order.
"Cynergy's concept for providing capital equipment of this caliber in the Scandinavian and Baltic regions, is to network our own resources with others in neighbouring countries as well as Hanwha's own engineering centre in Frankfurt to provide a level of knowledge and redundancy in support comparable with the largest of OEM's," the capital equipment supplier states in a press release.
Hanwha might still be a relatively unknown brand in the Nordic region, but behind the brand is a corporation with nearly 5,000 employees and a group revenue of nearly USD 50 billion. Their electronics manufacturing division has a very strong presence in East Asia, North America and other regions.
The fifth machine to be delivered later this year is the HM520-W and a wide format matrix tray changer, which will enable GP to place the largest of components – up to 150mm – with a force of up to 100N, making it ideal for oddform, but retaining speed with its capability to place up to eight 14mm components simultaneously.