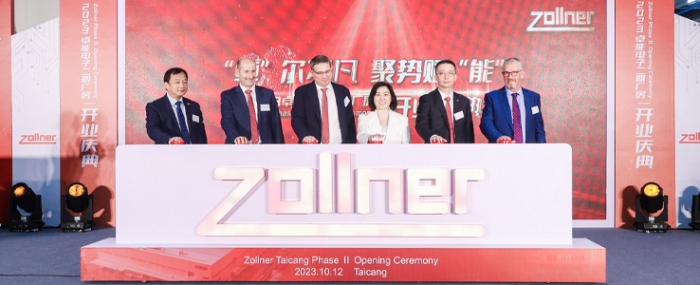 Electronics Production |
Zollner Elektronik expands in China
German EMS provider Zollner Elektronik has officially opened the expansion of its plant in Taicang, Jiangsu Province, China.
The expansion project was launched to meet the growing demands and requirements of the international market, and construction of the Taicang expansion started back in 2021.

With around 17,000 square meters of building space, the new plant building includes a cleanroom, two stories of production space for the population of PCBs and device assembly, and a large warehouse area. The additional production space takes up 15,000 square meters and was conceived to increase the company's production efficiency and capacity and create more jobs.
During the opening ceremony, Member of the Managing Board Markus Aschenbrenner underscored the significance of the Taicang location for the company as well as the performance and commitment at this plant. This expansion represents an investment in the future of the Zollner Group of companies.
"We are confident that Taicang offers excellent opportunities and conditions, particularly for the production of complex products, which will unlock further possibilities and potential for our company," Aschenbrenner said.
The expansion of the plant in Taicang not only solidifies the presence of the EMS provider on the global market but also, at the same time underscores the international orientation and development of the Group of companies.