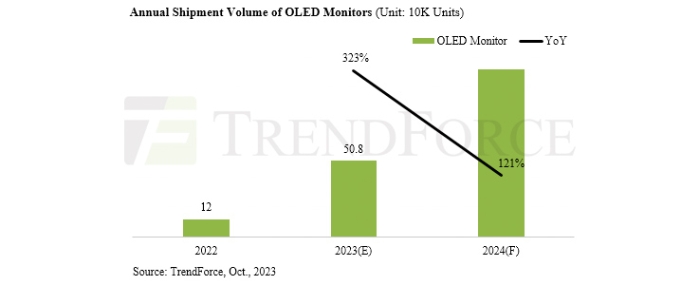 Analysis |
OLED monitor shipments predicted to soar 323% in 2023
TrendForce reports that the ever-expanding dimensions of OLED products, combined with the ambitious plans of several top-tier brands, mean that 2023 could see OLED monitor shipments hitting a staggering 508,000 units—an astronomical YoY surge of 323%.
Come 2024, the OLED landscape will be richer with more diverse product sizes and specifications. Add to that the debut of the 27-inch and 31.5-inch OLED panels by two leading Korean panel makers, and the arena is set for a showdown. Such dynamics are predicted to catapult OLED monitor shipments past the coveted one million unit threshold.
In terms of market share, Samsung is on track for a spirited push in OLED monitor shipments in 2H23, potentially capturing a market share of 27%—echoing LGE's performance. Not to be left behind, Dell is ardently pushing its 34-inch offering, hoping to clinch a market presence above 20%. Meanwhile, ASUS, having strategically positioned itself in the OLED monitor sector recently, is eyeing a market share nearing 9% this year.
Looking at OLED monitor sizes, the narrative for 2023 is headlined by the 34-inch segment, which is forecast to command a 37% market share. The 27-inch group trails closely with an estimated 32%, followed by 49-inch monitors at about 14%. The 45-inch category rounds off the top tiers with a market share of 10%. Casting an eye toward 2024, TrendForce anticipates 27-inch monitors to widen their footprint, emerging as the star player among OLED products. Furthermore, with both Samsung Display and LG Display bolstering the production of their 31.5-inch OLED offerings, this size might just see its market share leapfrogging over 10% in the coming year.
---
For more information visit TrendForce.