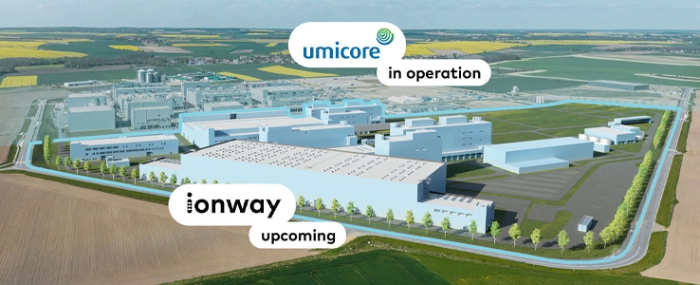 General |
Europe's new battery materials player IONWAY
The newly-founded Brussels-based European EV battery materials producer IONWAY has chosen to build its first cathode active material (CAM) production plant in Nysa, Poland, adjacent to Umicore's existing CAM plant.
The new company, a JV by Volkswagen Group-owned PowerCo and Umicore, is scaling up the EU footprint in the e-mobility business with the ambition to grow its annual production capacity to 160 GWh per year by the end of the decade – which corresponds to 2.2 million EVs.
"We are excited with today's announcement, as it marks the operational first step of IONWAY and an important step in the expansion of Umicore's European local-for-local integrated battery materials value chain," says Mathias Miedreich, CEO of Umicore in a press release.
The Polish government supports the investment in Nysa ‒ which is expected to create about 900 industry jobs in Nysa towards the end of the decade ‒ and is offering IONWAY EUR 350 million in cash grants under the Temporary Crisis and Transition Framework for a total investment of up to EUR 1.7 billion (EUR 1.35 billion after grants) by the end of the decade.
Preparation of the site, engineering, and permitting are ongoing and construction will start once the permitting process is completed. Production of the plant is expected to begin as soon as construction is completed, while PowerCo's CAM demand for the Salzgitter cell gigafactory is secured from the existing production capacity of Umicore in Nysa in time for its start of production in 2025.
"IONWAY gives both PowerCo and Umicore a significant first-mover advantage in the fast-growing e-mobility market in Europe. PowerCo has now co-created what it was looking for: a battery materials supplier to secure and build-up manufacturing capacity for reliable and cost-competitive precursor and cathode material production based on responsibly sourced raw materials," says Jörg Teichmann, Chief Purchasing Officer of PowerCo.
The choice for Nysa and Poland was based on the strategic location it provides, with access to renewable energy sources to power the plant's production, as well as a skilled workforce. Moreover, the production facility will benefit from Umicore's nearby CAM know-how in Nysa and easy access to raw materials from Umicore's refining operations in Finland.
IONWAY will produce tailored high-performance CAM as well as the related precursor materials (pCAM), and supply it to PowerCo's European battery cell gigafactories. The site selection for IONWAY's future pCAM plant is ongoing and will be announced at a later date.