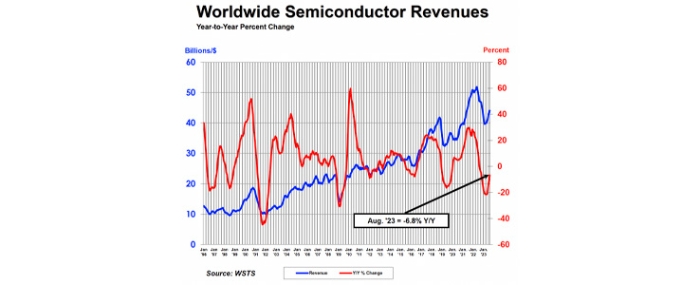 Analysis |
Global semiconductor sales increase 1.9% MoM in August
August increase marks the sixth consecutive month of month-to-month market growth, however, worldwide chip sales are still down 6.8% year-to-year
Global semiconductor industry sales totalled USD 44.0 billion during August 2023, an increase of 1.9% compared to the July 2023 total of USD 43.2 billion but 6.8% less than the August 2022 total of USD 47.2 billion, reports the Semiconductor Industry Association (SIA).
"Global semiconductor sales ticked up on a month-to-month basis for the sixth consecutive month in August, demonstrating a slow-and-steady increase in market demand during the middle of the year," said John Neuffer, SIA president and CEO, in a press release. "Global sales were down again in August compared to last year, but the year-to-year decrease was smaller than at any point since October 2022, providing optimism for continued momentum in the months ahead."
Regionally, month-to-month sales increased in the Americas (4.6%), China (2.0%), and Asia Pacific/All Other (1.2%), but decreased slightly in Japan (-0.4%) and Europe (-1.1%). Year-to-year sales were up in Europe (3.5%) and the Americas (0.3%), but down in Japan (-2.9%), Asia Pacific/All Other (-11.3%), and China (-12.6%).
---
During Evertiq Expo Sophia Antipolis on 8 February 2024, Semiconductor industry and market expert Georg Steinberger will host a presentation aptly named "After the Big Shortage – How Global Distribution Shifts Towards Digital Supply Chain Management."
As one of the most dynamic industries on the planet, the electronics components industry regularly falls victim to its cyclicality – major swings from oversupply to severe allocations. The past two years have seen the market wrestle with a mix of transportation issues, large increases in demand, and at the same time severe shortages in many component families, some of which still exist today, during the current downturn.
During the presentation, Georg Steinberger will highlight various ways to improve transparency in the supply chain through a collaborative approach across company boundaries.