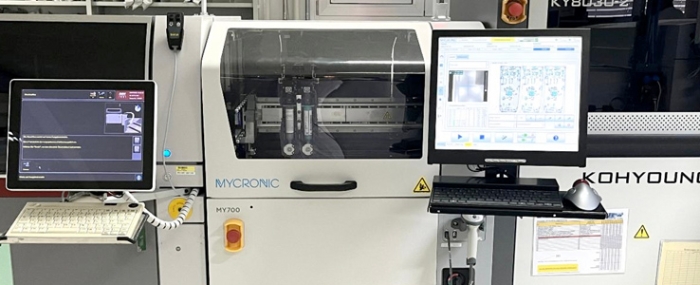 Electronics Production |
Escatec Switzerland expands its SMT capabilities
Escatec is upgrading its machine park at its location in Heerbrugg, Switzerland (ECH). The company has added a new Mycronic MY700 jet printer to its Surface Mount Technology (SMT) line in early August 2023 and the results have been right on target.
The advanced jet printer offers many advantages over the stencil printing method usually employed for soldering in SMT production and has enabled ECH to improve the flexibility, efficiency, and quality, of its SMT output.
ECH's new jet printer provides significant innovation over the stencil printing method, notes Production & Engineering Manager Dr Martin Mundlein. "It is a unique equipment allowing a very high level of flexibility for solder paste application, enabling up to 700,000 solder paste dots per hour and dispensing down to 200um size. By using it in combination with a stencil printer, it has given ECH full process flexibility when it comes to SMT," Mundlein explains in a press release.
The jet printer is currently installed directly in ECH's SMT line after a stencil printer and before a 3D solder paste inspection station. It has allowed ECH to reduce cost and lead times for prototype builds and low-volume production by eliminating the need for stencils –which are expensive – while expanding flexibility in the type and complexity of PCBs that can be run.
"We can use pure stencil printing for standard mass production, pure jet printing for NPI (new product introduction) and low volumes, and a combination of stencil and jet printing for mass production applications requiring topping-up with additional paste in critical areas, similar to the usage of a stepped stencil but with bigger freedom of application," says Dr Mundlein.
The jet printer has reduced costs in several ways for ECH. Firstly, by eliminating the need for expensive stencils which have a long lead time when ordering and to set up. Secondly, there is an improvement in yield by reducing the risk of solder paste misprints and process failure, thirdly by allowing for precise control of the solder paste volume applied to each component, and fourthly by reducing the number of scrap or rejects.
Dr Mundlein believes the new jet printer is a valuable addition to ECH's manufacturing capabilities and, once it has been thoroughly evaluated and fine-tuned in ECH and with experience in hand, the technology is likely to be rolled out to Escatec's network of production sites in Europe and Malaysia. Most importantly, ECH's customers will benefit from the cost savings, shorter lead times and higher quality, gained from the new jet printer.