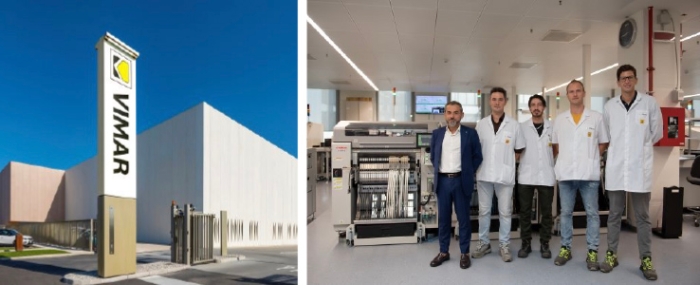 Electronics Production |
Vimar upgrades its production with Yamaha systems
Yamaha Robotics SMT Section has supplied three Sigma G5SII surface mounters and the latest YRi-V 3D optical inspection system to Italian electronics manufacturer Vimar.
Vimar produces wiring devices, systems for smart home and building automation, video door entry, CCTV and temperature control products, and has chosen the Yamaha equipment for a new surface-mount assembly line going live this summer at the company's new logistics and production hub at Marostica, northeastern Italy.
The new line will deliver extra manufacturing capacity to Vimar, which is needed to meet surging market demand for its products. These include smart switches, home automation products, climate management controllers, door entry systems, and others.
Vimar already owns three Yamaha G5SII mounters and has extensive experience with the Sigma platform, having worked with Yamaha key account manager Riccardo Fiocchi for more than 20 years.
"When we expanded the factory and planned our new line, we chose the Sigma G5SII again for its excellent performance and to keep compatibility with our existing feeders and nozzles. Riccardo at Yamaha understands our business and the values we seek to maintain, so his help enabled us to ensure the right specification for our needs," says Michele Campagnolo, Engineering Manager and Purchasing Director at Vimar, in a press release.
In the existing line, the three G5SII machines are working alongside a Yamaha YSi-V 3D AOI system. The YSi-V delivers inspection resolution up to 12MP, with 4-angle inspection at multiple wavelengths to enhance accuracy.
"Our YSi-V AOI has performed so well that the next-generation YRi-V system was the only choice we considered for the new line," continues Michele Campagnolo. "With AI-accelerated component recognition and even more powerful inspection capabilities, we can introduce new products more quickly and rely on consistent inspection coverage. This will allow us to continue creating new board designs that leverage greater component density to pack more features in smaller dimensions."
The YRi-V has an enhanced illumination system with an 8-way projector that prevents shadowing to enhance inspection of closely spaced components. The new system also comes with an upgraded image-processing subsystem that accelerates inspection cycle time by at least 60%, 4-angle camera resolution increased to 20MP, and a new and enhanced 5µm lens option that can spot defects such as minute scratches and cracks in the most miniaturised component packages.