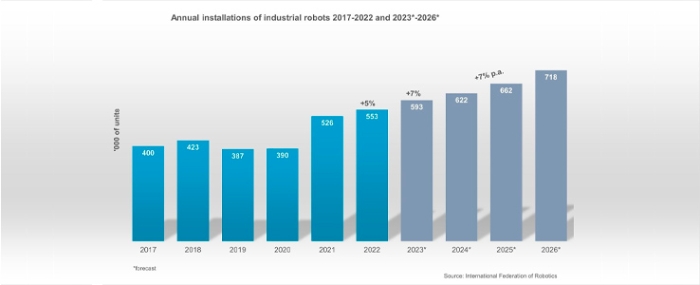 Analysis |
The world of robots - Asia in the lead
The new World Robotics report recorded 553,052 industrial robot installations in factories around the world – a growth rate of 5% in 2022, year-on-year. By region, 73% of all newly deployed robots were installed in Asia, 15% in Europe and 10% in the Americas.
"The world record of 500,000 units was exceeded for the second year in succession," says Marina Bill, President of the International Federation of Robotics, in a press release. "In 2023 the industrial robot market is expected to grow by 7% to more than 590,000 units worldwide."
China is by far the world's largest market. In 2022, annual installations of 290,258 units replaced the previous record of 2021 by a growth of 5%. This latest gain is remarkable since it even tops the 2021 result which was a 57% jump compared to 2020. Robot installations in Japan were up by 9% to 50,413 units, exceeding the pre-pandemic level of 49,908 units in 2019. The peak level remained at 55,240 units in 2018. The market in the Republic of Korea rose by 1% - installations reached 31,716 units in 2022. This was the second year of marginal growth, following four years of declining installation figures.
The European Union remains the world's second-largest market (70,781 units; +5%) in 2022. Germany is one of the top five adopters worldwide with a market share of 36% within the EU. Germany´s installations went down by 1% to 25,636 units. Italy follows with a market share of 16% within the EU – installations grew by 8% to 11,475 units. The third largest EU market, France, recorded a regional market share of 10% and gained 13%, installing 7,380 units in 2022.
In the Americas, installations were up 8% to 56,053 units in 2022, surpassing the 2018 peak level (55,212 units). The United States, the largest regional market, accounted for 71% of the installations in the Americas in 2022. Robot installations were up by 10% to 39,576 units. The two other major markets are Mexico – where installations grew by 13% (6,000 units) – and Canada, where demand dropped by 24% (3,223 units). This was the result of lower demand from the automotive industry, the strongest adopter.
Brazil is an important production site for motor vehicles and automotive parts: The International Organization of Motor Vehicle Manufacturers (OICA) reports an output of 2.4 million vehicles in 2022. This shows the huge potential for automation in the country.
IFR says that 2023 will be characterised by a slowdown of the global economic growth. Robot installations in 2023 are not expected to follow this pattern. There is no indication that the overall long-term growth trend will come to an end soon: rather the contrary will be the case. The mark of 600,000 units installed per year worldwide is expected to be reached in 2024.