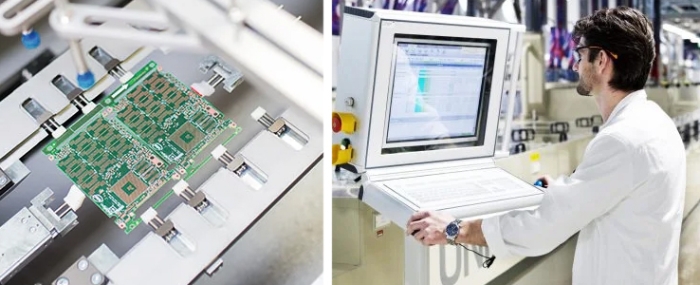 PCB |
AT&S conducts green electronics research for Europe
Along with 48 other companies and research institutions covering the entire value chain, AT&S is working on the development of new technologies to make electronics production in Europe more sustainable as part of the EECONE (European ECOsystem for greeN Electronics) project.
The EUR 35 million project is scheduled to run for three years and is funded with EUR 20 million from the European Union and the participating member states.
EECONE is a large-scale research project under the leadership of the German chip manufacturer Infineon, intended to find new ways to make the electronics industry in Europe more sustainable along the entire value chain. The objective is to minimise the use of valuable resources in the production processes by exploring better ways to recycle, repair and treat electronic components and – among other things – find alternatively usable materials. Reducing non-reusable waste and improving recycling systems is also a subject of research within the project.
"This is an excellent project for us because it fits in perfectly with our existing sustainability strategy," says Marina Hornasek-Metzl, Senior Director ESG at AT&S, in a press release. "We also focus on a holistic view of the product life cycle. In addition, modern EcoDesign guidelines for environmentally sound production and topics such as increasing resource efficiency are areas in which AT&S can make a contribution to EECONE based on existing know-how. We always strive to make our products and production processes as sustainable as possible. Therefore, we will invest 1.2 million euros of our own funds and subsidies into the project."
At AT&S, the "Resource Efficiency" Group under the leadership of Christof Wernbacher and under the patronage of
the ESG team are already in the process of defining the first specifications and implementation concepts for green PCBs.
"Today, electronic circuits are part of nearly every device we use in everyday life, from coffee machines to smartphones and electric cars," says AT&S CTO Peter Griehsnig. "That is why integrated solutions for our products and processes have a disproportionally high influence. If our substrates and PCBs are as environmentally friendly as possible in their use of resources and electronic waste can be further reduced, we will be able to make a considerable contribution to a more sustainable future."
In the coming three years, AT&S will continue to expand its knowledge and expertise in the area of sustainability in order to offer customers in all market segments green solutions. Life cycle assessment, which is already in use for many products, will be further improved.