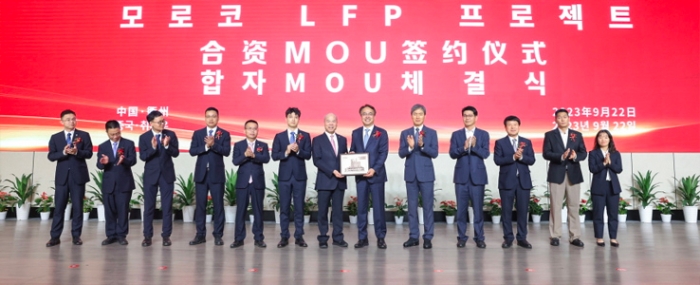 Electronics Production |
LG teams up with Huayou for LFP cathode plant in Morocco
LG Chem and Huayou Group have signed an MoU to build a 50,000-ton-per-year lithium-phosphate-iron (LFP) plant in Morocco with mass production targeted for 2026.
LG Chem says that the company will make inroads into the lithium-phosphate-iron (LFP) cathode materials business in partnership with China's Huayou Group. In addition, LG Chem will start vertical integration of its cathode supply chain.
LG Chem and Huayou Group have signed a memorandum of understanding (MoU) to jointly enter the LFP cathode material market and strengthen their cathode supply chain. The parties aims to build a total of four facilities, including an LFP cathode material plant and a lithium conversion plant in Morocco as well as a high pressure acid leaching (HPAL) plant and a precursor plant in Indonesia.
"We will actively respond to the emerging LFP cathode material market with the Morocco plant as our global base," says LG Chem CEO Shin Hak-cheol, in a press release. "Our goal is to create a strong, vertically integrated material supply chain — flowing from raw materials to precursors and cathode materials — and solidify our status as the world's top comprehensive battery materials producer."
LG Chem and Huayou Group's subsidiary Youshan will build a LFP cathode material plant in Morocco. The plant is slated for mass production by 2026 with an annual capacity of 50,000 metric tons and is expected to meet demand for LFP cathode materials, which is gaining popularity due to their price competitiveness over nickel-cobalt-manganese (NCM) cathodes. According to the press release, 50,000 tons of LFP cathode materials are enough to be installed in 500,000 entry-class electric vehicles (that come with a 50-kilowatt-per-hour capacity and a 350-kilometer range).
LFP cathode materials produced at the Morocco plant will be supplied to the North American market and subsidised by the U.S. Inflation Reduction Act (IRA) as Morocco is a signatory to the U.S. Free Trade Agreement (FTA).
LG Chem will venture into the LFP cathode materials business based on the Morocco plant and expand the business into lithium-manganese-phosphate-iron (LMFP) cathode materials, a mixture of manganese and LFP that provide more capacity and better output than LFP cathode materials.
LG Chem will also promote the lithium conversion plant business with Huayou Cobalt in Morocco. A conversion plant is a facility that extracts lithium hydroxides and lithium carbonates, both of which are essential for producing cathode materials from lithium concentrates. The lithium conversion plant is expected to mass-produce 52,000 tons of lithium annually by 2025 and supply that it to the LFP plant.
In addition to the plants in Morocco, LG Chem and Huayou Cobalt agreed to cooperate in Indonesia, which is actively promoting the battery manufacturing and electric vehicle sector based on its cost competitiveness as it has the world's largest nickel reserves and production. The companies are also considering the establishment of a precursor plant in Indonesia with a production capacity of 50,000 tons per year.