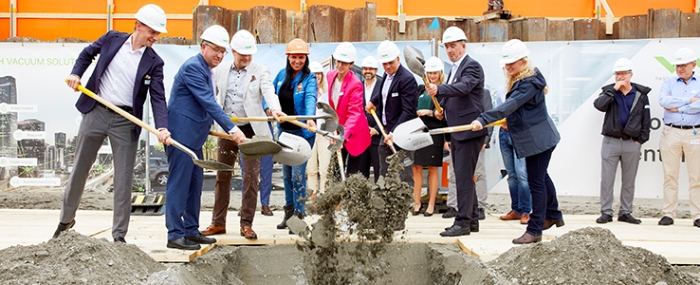 Electronics Production |
VAT breaks ground for innovation center in Haag
On September 13, VAT broke ground for a new innovation center at its corporate campus in Haag, uniting research, development and application activities under one roof on 12,000 m2 over four floors.
Urs Gantner, Executive Vice President of the in-house Semiconductor Solutions Group and designated CEO from January 1, 2024, described the innovation center as the heart of VAT's innovation activities.
"It is designed to accelerate our customer-centric innovation and deliver the key innovations needed for the digital age," Gantner said in a press release
The St.Gallen cantonal government was represented by Beat Tinner, head of the Department of Economic Affairs, and Susanne Hartmann, head of the Department of Construction and Environment. Tinner is said to have assessed the building project as a "convincing commitment to Eastern Switzerland as a place to work".
"In times of a shortage of skilled workers, the Innovation Center is an immensely positive sign," Tinner stated.
VAT broke ground for the new innovation center with a budget of CHF 40 million. The center is scheduled to open in spring 2025.