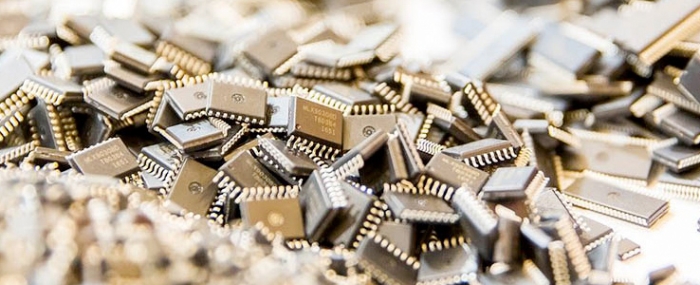 Analysis |
Chip industry sees revenue increase after long decline
The semiconductor industry has reversed course and saw an increase in sales in 2Q23 after experiencing revenue decline for five consecutive quarters, reports Omdia.
According to Omdia's latest research, this quarter's sales increased by 3.8% to USD 124.3 billion. This development is consistent with previous trends – when looking at data from 2002 through 2022 – for the whole semiconductor market, with second-quarter sales rising by an average of 3.4% from the first quarter.
However, development within the semiconductor industry is still deviating from historical patterns. For example, the DRAM market was up 15% in 2Q23 with a historical pattern of 7.5% in the second quarter.
Following the longest stretch of decreases since Omdia started keeping track of the market in 2002, the increase is a positive development for the semiconductor sector, and much welcomed. Although the market is currently 79% of what it was a year ago when total sales were USD 160 billion in 2Q22. A return to the revenue levels of late 2021 will take some time.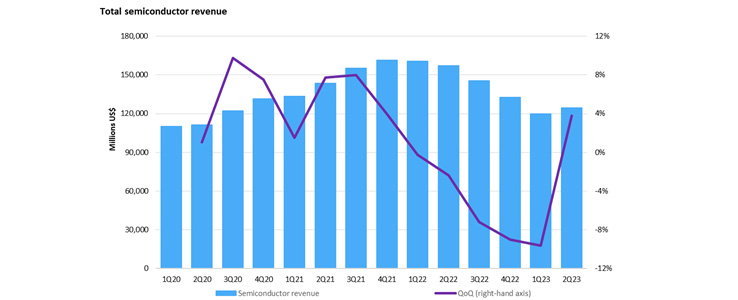 The semiconductor turnaround in 2Q23 was headed by Nvidia. Industry-wide semiconductor sales climbed by USD 4.6 billion over the prior quarter, with Nvidia accounting for USD 2.5 billion of that growth. Nvidia is moving up the market share ranks as a result of the recent, sharp increase in demand for generative AI, an industry that it is dominating.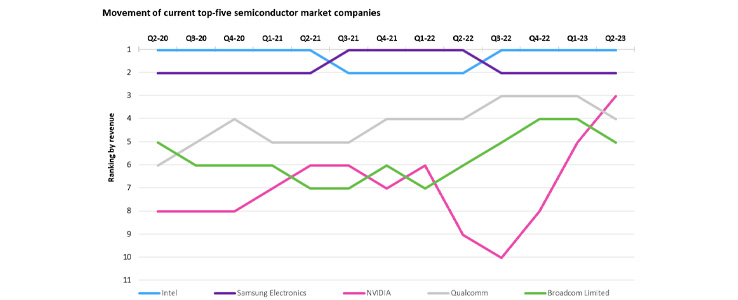 Nearly one-third of semiconductor revenue — 31% in 2Q23 — comes from the data processing industry, which saw growth of 15% quarter over quarter (QoQ), led by the introduction of AI chips into the server market. The second-largest market, wireless, which is driven by smartphones, had a 3% QoQ fall due to the sector's persistently low end demand. With a 3.2% increase, the automotive semiconductor market is still expanding.
With a 47.5% increase in semiconductor sales from the prior quarter, Nvidia has taken the lead in the turnaround. By revenue, Nvidia was the ninth-largest semiconductor firm a year ago; as of the end of Q2-23, it is currently ranked third. Although Nvidia had the most impact on the expanding market, other significant companies also made a positive contribution. Eight of the top 10 companies had a rise in semiconductor sales in 2Q23, illustrating that the turnaround is not limited to one sector of the overall market.
| | | | | | | | |
| --- | --- | --- | --- | --- | --- | --- | --- |
| 2Q22 Rank | 2Q23 Rank | Company | 2Q22 revenue ($) | 1Q23 revenue ($) | 2Q23 revenue ($) | QoQ | YoY |
| 2 | 1 | Intel | 14,865 | 11,139 | 12,263 | 10.1% | -17.5% |
| 1 | 2 | Samsung Electronics | 20,300 | 8,929 | 9,450 | 5.8% | -53.4% |
| 9 | 3 | Nvidia | 5,208 | 5,356 | 7,899 | 47.5% | 51.7% |
| 4 | 4 | Qualcomm | 9,,378 | 7,942 | 7,174 | -9.7% | -23.5% |
| 6 | 5 | Broadcom | 6,561 | 6,563 | 6,150 | -6.3% | -6.3% |
| 3 | 6 | SK Hynix | 10,792 | 3,810 | 5,330 | 39.9% | -50.6% |
| 7 | 7 | AMD | 6,491 | 5,299 | 5,308 | 0.2% | -18.2% |
| 12 | 8 | Infineon Technologies | 3,787 | 4,381 | 4,430 | 1.1% | 17.0% |
| 11 | 9 | STMicroelectronics | 3,837 | 4,247 | 4,36 | 1.9% | 12.7% |
| 10 | 10 | Texas Instruments | 4,982 | 4,270 | 4,320 | 1.2% | -13.3% |
| | | Top 10 companies | 86,201 | 61,936 | 66,650 | 7.6% | -22.7% |
| | | All others | 70,789 | 57,814 | 57,666 | -0.3% | -18.5% |
| | | Total semiconductor | 156,990 | 119,750 | 124,316 | 3.8% | -20.8% |