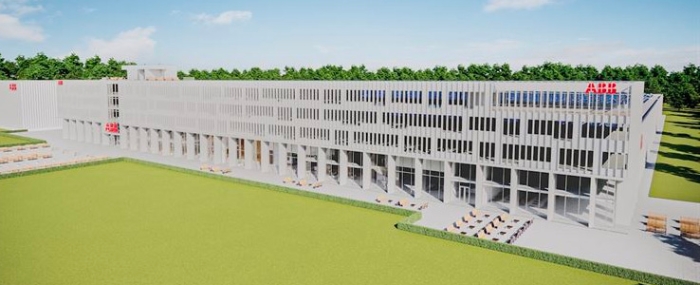 Electronics Production |
ABB invests $280M in new robotics hub in Sweden
A 65,000 square metre integrated Robotics Campus will replace the company's existing site, bringing together automated manufacturing, R&D, customer experience and training centers to develop next-gen AI-enabled technologies.
ABB says that it will invest USD 280 million to expand its manufacturing footprint in Europe and build a new Robotics European Campus in Västerås, Sweden. The Campus will serve as the hub for ABB Robotics' offering in Europe, providing customers with AI-enabled collaborative and industrial robots, as well as digital solutions to support flexible automation. Replacing the existing robotics facilities at the site, the new Campus is planned to open in late 2026.
"The investment in our new Campus is driven by customer demand and projected market growth," said Björn Rosengren, ABB CEO, in a press release. "Following important investments in China and the U.S, the new facility in Sweden will strengthen our capabilities in serving our customers in Europe with locally manufactured products in a growing market. Already today, around 95% of the robots ABB sells in the region are manufactured here. This is a strong commitment not only to our "local for local" strategy, but to all our robotics customers across Europe."
With the facility, ABB will expand production capacity by 50% and strengthen its capabilities to supply the European market, which is expected to grow at 7% CAGR through 2027.
When the campus is completed, ABB will have invested USD 450 million in its three robotics facilities since 2018, including its mega factory in Shanghai that supplies customers in Asia and the Auburn Hills facility that supports the Americas.
The 65,000 square metre campus will be the workplace for ABB Robotics' workforce of 1,300 and include a new factory, offices, a research and development center, an experience center and a training center for customers and visitors. The new factory will also feature autonomous mobile robots (AMRs) as a key component in transporting materials and products between the warehouse, assembly stations and assembly departments.
The construction is planned to start in 2024 and will replace the nine separate buildings that have grown organically since 1974 and currently constitute the robotics operations in Sweden.