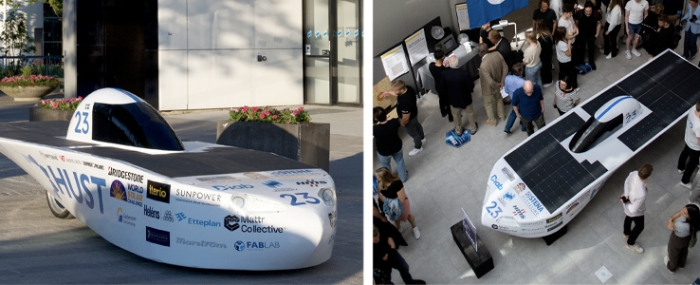 Electronics Production |
Meet the EV set to cross Australia, powered only by the sun
They are set to cross Australia, covering 3022 kilometres from north to south with only solar power as their fuel. The Halmstad University Solar Team, or HUST, the developers of a solar-powered racing car which will race in the Bridgestone World Solar Challenge, is coming to Evertiq Expo Gothenburg and bringing their car "Heart 3" along.
The Bridgestone World Solar Challenge is an international competition that first saw the light of day in 1987 and takes place every second year. The competition focuses on solar-powered vehicles and their ability to traverse a long distance through the Australian desert, from Darwin in the north to Adelaide in the south.
The competition has evolved into one of the world's most prestigious events for solar-powered vehicles and attracts participants from various countries, including universities, research institutes, and individuals.
Halmstad University Solar Team is a nonprofit student-driven organisation based in Halmstad, fully funded by sponsors, and has participated in the competition in the past and is doing so again this year. The vehicle can only be powered by the sun, but there is also a limit on the maximum power the solar panels can generate – herein lies the design challenge. At the same time, there are many safety and sustainability requirements that must be met in order to participate.
This means that it is not only a technical challenge for the teams, but it also tests their strategic ability to manage energy consumption, weather conditions, and terrain. The teams must find a balance between driving fast enough to avoid losing time but not too fast to overtax the batteries.
HUST, along with the car "Heart 3," which has participated in the competition before, will be present at Evertiq Expo Gothenburg on September 20, 2023.
Filippa Malmenstam, Project Manager for HUST, tells Evertiq that 17 members of the team will be on-site in Australia, including six drivers. The team is heading down under with clear goals and a well-defined strategy.
"We are very excited, and there's only a month left now. We have clear goals but are also very aware of the challenges that may arise on-site that we may need to adapt to."
After each race, the entire team is replaced, and everything starts from scratch. Sponsors need to be found, a new design and construction need to be established, and then everything also needs to be done physically. This means that this team has been working on the vehicle for about two years.
Filippa says that the challenge lies in designing and building a car that is lightweight with low aerodynamic resistance while also being strong – all in a sustainable manner. And let's not forget the 70-page safety regulations that the team must adhere to.
Among the project's sponsors, we find companies such as HMS Networks, Stabe, Sunpower, Arise, Autoliv, and Evertiq.