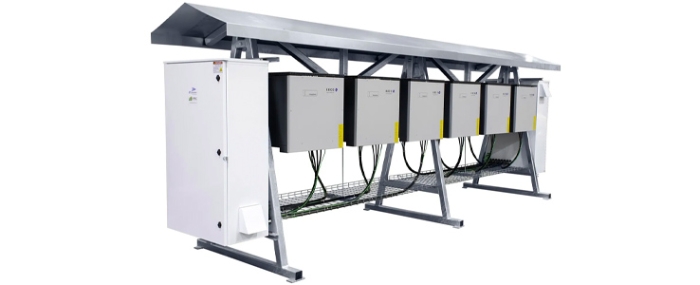 Electronics Production |
Siemens starts manufacturing solar inverters at Sanmina's Wisconsin plant
Siemens will start manufacturing photovoltaic (PV) string inverters in Kenosha, Wisconsin, where the company will produce utility-scale solar components specifically designed to serve the U.S. market.
The Kenosha facility – owned and operated by Siemens manufacturing partner Sanmina – will help meet increased demand for localised production of critical parts for photovoltaic projects.
Operations at the Kenosha facility will be the newest addition to Siemens' growing US footprint, underscoring the company's manufacturing presence in Siemens' largest market. Over the past four years, Siemens has invested USD 3 billion to expand US manufacturing and other strategic M&A activities.
"According to the Solar Energy Industries Association (SEIA), the total number of installed U.S. solar fleets is expected to grow fivefold from 2022 to 2033, and with tax credits now available due to the Inflation Reduction Act, that demand will only get stronger," says Brian Dula, Vice President of the Electrification and Automation business at Siemens Smart Infrastructure USA, in a press release. "Working with Sanmina to establish this new production line, Siemens is well positioned to address supply challenges our country is facing as we work to localize production for green and renewable infrastructure."
The facility is projected to start production in early 2024 and will scale up to a capacity of 5,200 BPTL3 string inverters (800MW) per year. The string inverters, which will range from 125 to 155 kW, will be manufactured with a California Energy Commission (CEC) efficiency of 99%.
"This new production line at the Sanmina facility represents Siemens' strategic priorities to best serve our U.S. customers while being a key partner in our nation's transition to a more sustainable future," says Ruth Gratzke, President of Siemens Smart Infrastructure USA. "The investments we're making in communities like Kenosha and the work that we will be doing to bring renewable infrastructure to life will have a crucial impact as we work towards our net-zero goals as a country."
Work at the facility will create up to a dozen jobs during its initial ramp-up period, with plans to grow this number at the facility and through the regional supply chain in the future.