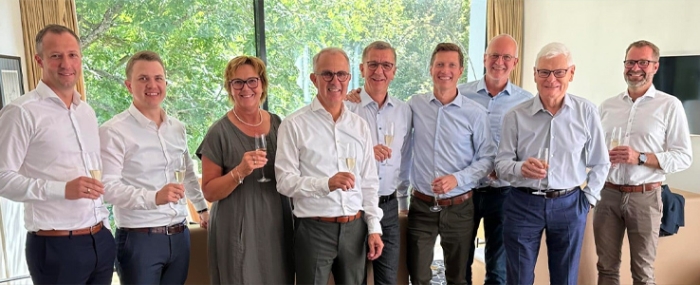 Electronics Production |
Mekoprint acquires Seritronic
Danish industrial group Mekoprint has just acquired the company Seritronic. Together, the two companies becomes a stronger player on the market and also one of the largest companies in Europe in the manufacture of membrane keyboards, operating and display solutions and graphic foils.
Over the recent years, Mekoprint in Støvring has increased its turnover significantly, and now the company is continuing its growth journey with the acquisition of Seritronic.
The acquisition is described in a press release as part of Mekoprint's growth strategy, which includes major investments in new skills, production technologies and companies that strengthen Mekoprint's position in the market.
"Mekoprint and Seritronic complement each other very well. Seritronic is a professional and well-run organisation with a special ability to quickly develop solutions in collaboration with customers. At Mekoprint, we have strong engineering skills for the more demanding customer needs and also work closely with customers on their product development. The merger will give us a broader skillset, which will benefit all our customers," says Mekoprint CEO, Anders Kold in the press release.
In terms of products, Seritronic has a strong position in complete box-build solutions and rapid prototyping, while Mekoprint is strong in product development and production maturation. The two companies are both among the largest manufacturers in Scandinavia in the membrane keyboards, operating and display solutions and graphic foils segment. Following the acquisition, the combined group will be the largest in Northern Europe in this segment and among the three largest in Europe with a total turnover of over EUR 34 million.
Seritronic has 60 employees and generated a turnover of EUR 15 million in 2022, while Mekoprint has more than 700 employees and generated a turnover of EUR 98 million in the 2021/22 financial year. According to Seritronic's owners, Birgitte Helenius and Hans Henrik Pedersen, the sale to Mekoprint is the right solution in order to future-proof the company.
"Seritronic is at a point where there is a need for a generational change. By selling to Mekoprint, we secure our employees' jobs and, not least, we send a signal to our customers that Seritronic will be in good hands in the future. Through many meetings and dialogues with Mekoprint, we have learned that our values are aligned, both regarding customers and employees," says Hans Henrik Pedersen.
With the acquisition, Seritronic changed its name to Mekoprint Seritronic and continue as an independent subsidiary in Mekoprint's Graphic Electronics division. Morten E. Lundgreen is the Divisional Manager and he will also be the new CEO of Mekoprint Seritronic. Birgitte Helenius will continue as Director of Finance and Organisational Development, while Hans Henrik Pedersen will continue as Director of Sales and Business Development.