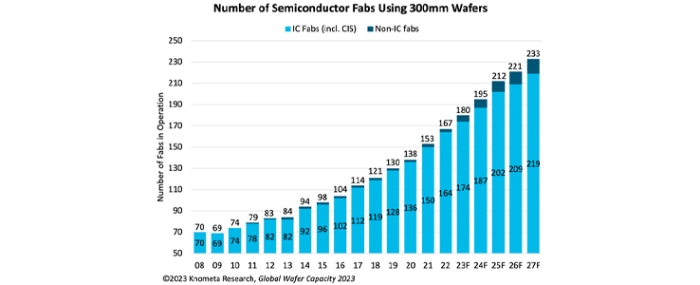 Analysis |
13 new 300mm wafer fabs being brought online in 2023
At the end of 2022, there were 167 semiconductor fabs processing 300mm wafers for the fabrication of ICs, including CMOS image sensors, and non-IC products such as power discretes.
While the semiconductor market downturn persists, 13 new 300mm wafer fabs will be brought online in 2023. These new fabs will primarily produce power transistors, advanced logic, and foundry services, according to Knometa Research.
According to building schedules as of late 2022, 15 300mm fabs will be operational in 2024, with 13 of them producing integrated circuits. In 2025, a record number of fabs are planned to launch, with 17 set to commence production. Due to budget cuts in 2023, certain fabs slated to start in 2024 may be pushed back to 2025.
By 2027, there should be more than 230 300mm fabs in operation, according to estimates from Knometa's Global Wafer Capacity 2023 study.
A growing number of 300mm fabs are being created to manufacture non-IC devices, particularly power transistors. For device types with huge die sizes and big volumes, the manufacturing cost advantages of processing chips on large wafers come into play. DRAMs, flash memory, image sensors, advanced logic and microcomponent ICs, PMICs, baseband processors, audio CODECs, and display drivers are examples of integrated circuits possessing these qualities. While large-size power transistors are still modest in comparison to these ICs' die sizes, they ship in vast quantities and are large enough to maintain a 300mm fab filled at a cost-effective production level.
Knometa points out that of the 13 300mm wafer fabs opening in 2023, five are focused on the production of non-IC products, with three of them located in China and two in Japan.
Two-thirds of the new 300mm fabs debuting this year are for foundry services, with four of them entirely dedicated to foundry fabrication of semiconductors for other firms.
The memory chip industry is feeling the brunt of the present market slump. Unsurprisingly, no new 300mm fabs for memory opening are planned for 2023.
| | | | |
| --- | --- | --- | --- |
| Company | Fab name | Location | Production |
| Cr Micro | Runxin Microelectronics | Chongqing, China | Power discretes |
| GF | Fab 7H | Woodlands, Singapore | Foundry |
| GTA | Fab 6 | Shanghai, China | Foundry |
| Intel | Fab 34-1 | Leixlip, Ireland | MPU, Foundry |
| Mitsubishi | Power Device Works | Fukuyama, Hiroshima, Japan | Power discretes |
| Powership | Fab P5 | Tonglou, Miaoli, Taiwan | Foundry |
| Samsung | Fab P3, Phase 2 | Pyeongtaek, South Korea | Advanced logic, Foundry |
| St/GF | | Crolles, France | Advanced logic, Foundry |
| ST/Tower | Agrate R3 | Agrate, Italy | Mixed-signal, power RF, foundry |
| Toshiba | Kaga Toshiba | Moni, Ishikawa, Japan | Power discretes |
| TSMC | Fab 18, Phase 6 | Tainan, Taiwan | Foundry |
| Wingsky | | Shanghai, China | Power discretes |
| Yandong | | Beijing, China | Power discretes and IC's |
300mm wafer fabs opening in 2023