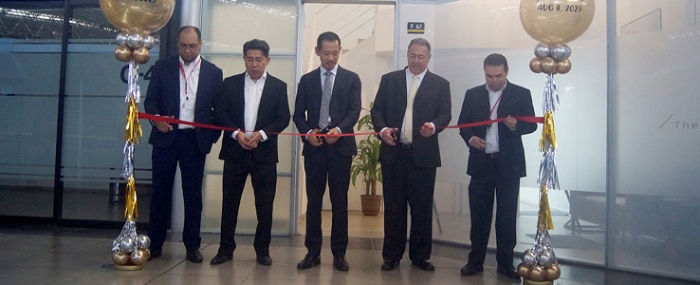 Electronics Production |
Saki opens new Mexican office
Automated optical and X-ray inspection equipment specialist, Saki Corporation, has recently opened its new Mexican office in Zapopan, Jalisco.
Ssituated in the manufacturing hub of the Guadalajara Metropolitan Area, the new office is the home for Saki's subsidiary, Saki America de México S.A. de C.V. The new office was officially opened on August 8, 2023.
With its new Mexican subsidiary and dedicated facility, Saki improves on its global sales and distribution network. For customers across Mexico, as well as those in the US, Canada, and South America, the new center provides a location for demonstrations of Saki's Total Inspection Line Solution.
Saki's portfolio of quality assurance equipment includes 3D solder printing automatic inspection (3D-SPI), 2D automatic visual inspection (2D-AOI), the latest next-generation 3D-AOI, and 3D-AXI machinery for superior x-ray inspection of PCBs and components.
"Opening an office in the key region of Guadalajara shows how Saki both values and provides for its international customers," said Norihiro Koike, President and CEO of Saki Corporation, in a press release. "Saki products represent the pinnacle of electronics quality assurance, and we are excited to serve the Americas from this important central location."
Ricardo Fuentes, Sales Manager at Saki's regional distribution partner PAC Mexico S.A. de C.V. added: "We are delighted to have strong backing from Saki with its new office in Mexico, in order to boost sales of Saki equipment in the Mexico region and strengthen technical support for our customers."