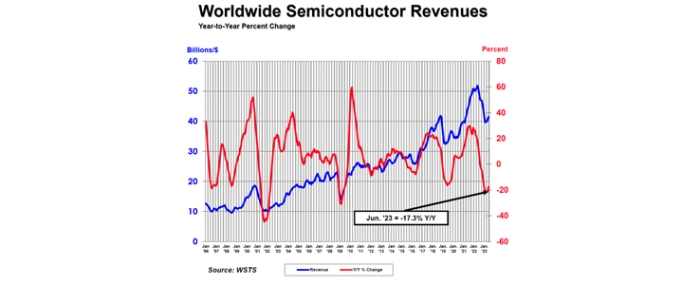 Analysis |
Global semiconductor sales increase 4.7% in Q2
The Semiconductor Industry Association (SIA) today announced worldwide sales of semiconductors totaled USD 124.5 billion during the second quarter of 2023, an increase of 4.7% over the first quarter of 2023 but 17.3% less than the second quarter of 2022.
Global sales for the month of June 2023 were USD 41.5 billion, an increase of 1.7% compared to the previous month.
"Although global semiconductor sales in 2023 remain behind the totals from last year, revenue ticked up in June for the fourth consecutive month and notched solid quarter-over-quarter increases, providing optimism the market will continue to rebound over the second half of the year," said John Neuffer, SIA president and CEO, in a press release.
Regionally, month-to-month sales increased in the Americas (4.2%), China (3.2%), Japan (0.9%), and Europe (0.1%), but fell slightly in Asia Pacific/All Other (-0.5%). Year-to-year sales were up in Europe (7.6%), but down in Japan (-3.5%), the Americas (-17.9%), Asia Pacific/All Other (-20.4%), and China (-24.4%).