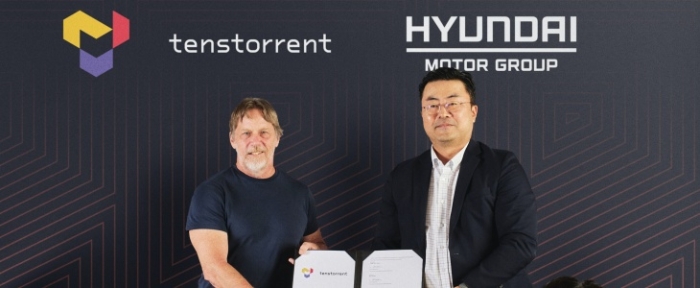 General |
Hyundai invests in AI chip company Tenstorrent
Canadian artificial intelligence chip specialist Tenstorrent has raised USD 100 million in a round led by Hyundai Motor Group and Samsung Catalyst Fund.
Tenstorrent says it wants to disrupt the silicon landscape with more flexible chip architectures not based on legacy X86 or Arm instruction sets. It develops general purpose AI processor designs based on the open source RISC-V architecture, along with hbespoke AI chips and board level accelerators. It also offers cloud services based on its technologies.
This vision seems to have persuaded Hyundai, which led the fresh round of investment in Tenstorrent. It said it plans to use the chip company's know-how and technology to develop advanced chips for use in the central processing units (CPU) and neural processing units (NPU) of future vehicles and mobility solutions.
"Tenstorrent's high growth potential and high-performance AI semiconductors will help the group secure competitive technologies for future mobilities," said Heung-soo Kim, Executive Vice President and Head of the Global Strategy Office (GSO) at Hyundai Motor Group. "With this investment, the Group expects to develop optimised but differentiated semiconductor technology that will aid future mobilities and strengthen internal capabilities in AI technology development."
Marco Chisari, EVP of Samsung Semiconductor Innovation Center head and Samsung Electronics, added: "Tenstorrent's industry-leading technology, executive leadership, and aggressive roadmap motivated us to co-lead this funding round. We are excited by the opportunity to work with Tenstorrent to accelerate AI and compute innovations."