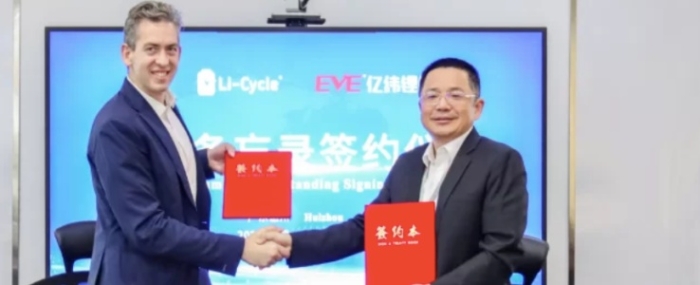 General |
Li-Cycle and EVE Energy agree to collaborate on lithium-ion battery recycling
Two of the world's largest lithium-ion battery cell manufacturers have signed a memorandum of understanding on recycling solutions for EVE battery materials.
Li-Cycle and EVE Energy have agreed a framework to explore sustainable recycling in the North American market, as well as battery manufacturing scrap generated at EVE's planned lithium-ion battery cell manufacturing facilities in Malaysia and Hungary.
The agreement comes at a time of significant expansion for both firms. EVE, which already has a manufacturing footprint in Asia, recently announced plans to build its first European battery manufacturing facility in Hungary and a new plant in Malaysia.


Jianhua Liu, co-founder and CEO of EVE Energy, said: "To better serve our international customers, we are going to construct green battery factories in Europe and Southeast Asia. To achieve this goal, we are implementing strategic initiatives such as industry chain integration, team internationalization, and the application of international operational models. We are pleased to partner with Li-Cycle to discuss the establishment of a high environmental standard battery recycling system to support sustainable development."
Tim Johnston, co-founder and Executive Chair of Li-Cycle, added: "Li-Cycle continues to scale as the world's preferred recycling partner and the MOU demonstrates how EVE recognizes our capabilities in delivering world-class lithium-ion battery recycling solutions with high efficiency, low emissions, and minimal waste generation to support a sustainable lithium-ion battery ecosystem. Li-Cycle continues to expand our business strategically and flexibly in line with our growing global customer base."