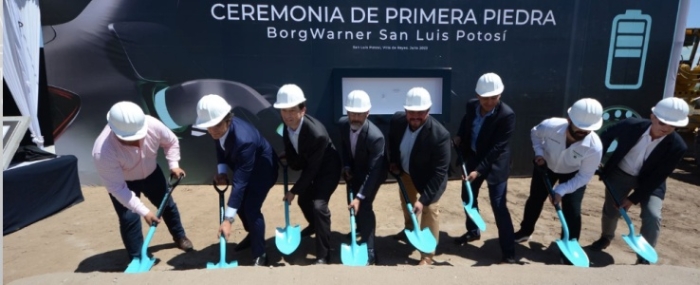 Electronics Production |
BorgWarner reveals plans for a new manufacturing plant in Mexico
US mobility specialist BorgWarner has broken ground on a new facility in San Luis Potosi that it will make power electronics components and electric motors.
It will be BorgWarner's latest site in Mexico and will integrate a clean room along with a product validation testing laboratory with a focus on inverters. BorgWarner said it chose San Luis Potosí as a strategic location with good access to the global supply chain.
Currently, BorgWarner has a manufacturing plant in the Tres Naciones industrial park, which assembles integrated electric drive units (iDM) for light electric vehicles. The new plant will at the WTC 2 Industrial Park and is expected to be open by Q2 2024.
"We are very proud of this project, which is firmly committed to enabling a sustainable future. Our Charging Forward 2027 Strategy demands agility and innovation, which is why we have the responsibility to push the transition towards electrification not only in manufacturing but also in product development." said Dr. Stefan Demmerle, President and General Manager of BorgWarner PowerDrive Systems.