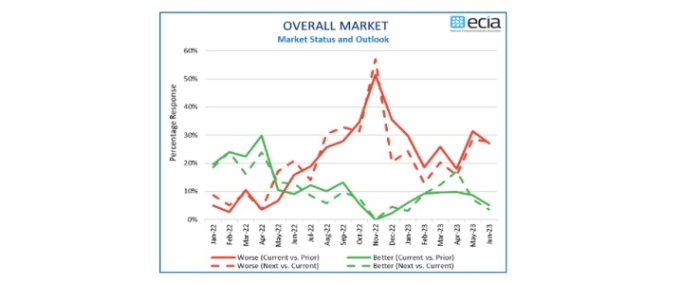 General |
Sales sentiment for the electronic components market recovers after May slump
New industry data reports a four point rise in sales sentiment among industry professionals in the electronics components supply chain.
The ECIA Electronic Component Sales Trends (ECST) Report made unsettling reading a month ago. It revealed a 14.5 point fall in industry optimism between April and May.
But the trade body has just released new data, which says sales sentiment has since risen by four points. That moves the index score to 76.3. Even more encouragingly, the ECIA expects the number to move up by eight points to 84.2.
Looking to the long-term, ECIA believes market adoption of innovative technologies and corporate/consumer demand for next-generation products should keep expectations buoyant.
Dale Ford, ECIA Chief Analyst and author of the report, said: "Hope continues to spring eternal as the outlook for the July index improves by nearly 8 points to 84.2. The primary driver of the improvement in the overall index is the semiconductor measurement. The overall trend in index results in 2023 point to an extended market recovery period with a turnaround in year-over-year growth coming at the end of 2023 at the earliest."