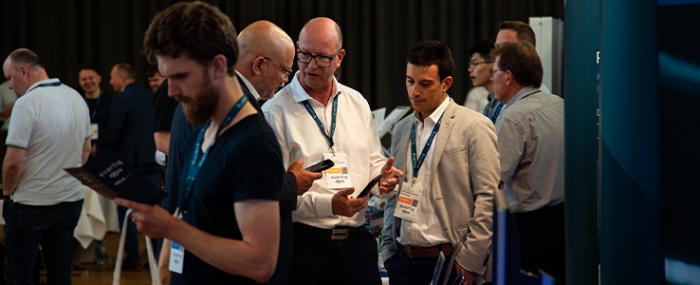 Electronics Production |
Evertiq Expo Berlin – positive vibes from the German electronics industry
On June 29, 2023, Evertiq opened the doors to its second-ever Evertiq Expo in the German capital. And following the turnout, we're looking forward to next year already.
During the day, a total of 269 people partook in the Expo at Science and Technology Park Berlin Adlershof in Berlin. 55 exhibiting companies welcomed 151 visitors from 91 different companies and organisations – covering everything from manufacturers, distributors to technology- and solution providers and more.
A major highlight from the conference program was Nikolaus v. Peter from the European Commission, who provided listeners with an overview of the EU Chips Act and provided additional information about the state of its implementation.
The topic of EOL and obsolescence proved interesting to the German audience as another highlight was Ken Greenwood, Regional Sales Manager at Rochester Electronics. Electronic Component lifecycles -between launch and Obsolescence are shortening. A large percentage of the world's electronic component demand is driven by consumer electronics and this market typically has shorter and shorter product lives. Obsolescence is therefore affecting more companies, more regularly than ever before. In his presentation, Ken spoke about the impact of obsolescence and how it can be managed.
Fabian Zentner from HTV Conservation GmbH provided insights into the fight against counterfeited and manipulated components, as well as insight into the company's experience with counterfeit electrical components. During his presentation, he show how counterfeiting has changed over time and how these forgeries are becoming increasingly difficult to detect.
As Germany is Europe's biggest manufacturer of PCBs, Evertiq made sure to spice up the stage program with information in how to increase PCB depaneling efficiency with laser technology (Javier Gonzalez, Sales Manager, InnoLas Solutions GmbH) and information in vias and microvias – design tips for high-density (Vjeko Grishaber - CEO - ALBA PCB Group/Q-print electronic GmbH)
Evertiq's editor-in-chief, Dennis Dahlgren, presented a comparison between US CHIPS Act and the EU's counterpart. How do these stack up against each other? What are the key differences? And above all – what are the effects of these so far?
Discussions on the floor centred much around the developments of the last six months. The downturn in the semiconductor market, with memory continuing to drop. The potential effects of the EU Chips Act and how the industry can address the skills shortage. Even though the first half of the year has offered up some challenges, the general consensus seems to be that it was a good first half – and the outlook for the rest of the year is positive.
Evertiq would like to take the opportunity to say thank you, to all participants, and welcome you all back next year