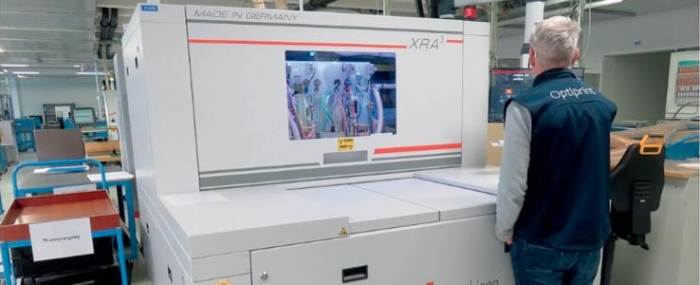 PCB |
Investments will keep Optiprint running though tough times
With the volatility of the past years behind us, Swiss PCB manufacturer Optiprint looked back at what the company had gone through and the current situation to devise a strategy to ensure its future and increase resilience.
The business of Optiprint, which specialises in high-quality PCBs, has stabilised at a high level, according to Hans-Jörg Etter, CEO of Optiprint in Berneck, Switzerland, and Gerhard Popp, Senior Sales Manager for Germany, Austria, and Eastern Europe. The prospects are good. This is partly due to the fact that the supply situation for the materials required for production has generally eased. However, there are still individual laminates with very long delivery times, the company states in a press release.
During the COVID-19 pandemic, nearly every industry faced issues with delayed supplies, resulting in products not being realised and delivered to customers on time.
Optiprint primarily serves markets such as medical technology, security technology, telecommunications, and aerospace. Markets that require not only technically advanced circuit boards and speciality products but also reliability in testing and specifically long-term secured supply. To meet these demands, Optiprint says that it is continuously expanding and updating its equipment and provides further training for its personnel.
In recent months, the manufacturer has invested close to 10% of its turnover to update and upgrade its operations.
A new X-ray drilling machine Schmoll XRA3 has been installed at the company's site. This machine will allow the company to process the entire surface in one step (measurement and complete execution of drilling/milling programs). It also provides better contrast for complex circuit boards (up to 40 layers), enables flexible positioning of holes and registration marks (optimised for each layer), and facilitates identification and reading of order data using an X-ray camera through 2D codes or clear text. Adding to this, a second measuring machine, an Impex proX3 has been installed to increase capacity. However, Optiprint is not done with those two investments, a new CNC universal milling machine, more specifically a DMG MORI DMU 50, for processing metal parts integrated into circuit boards has also been purchased.
Additionally, a diesel generator, Atlas Copco QAS+ 450, with a capacity of 450 kW, was acquired to enable uninterrupted production operations for several days in case of a power outage. And also buffer batteries for uninterrupted power supply to the mechanical and multilayer departments for several hours.
Optiprint states in the press release that these recent measures also included the dismantling of the HAL (Hot Air Leveling) facility and the modification of the laser machine.
The PCB manufacturer says that energy conservation has been a long-standing concern at the company, and a considerable amount has already been implemented, leaving little potential for further improvements in this area. However, the energy crisis caused by the conflict in Ukraine poses a new challenge. Optiprint is classified as a systemically important company and is among those that may be temporarily shut down during power grid issues. Nevertheless, the company has prepared for temporary shutdowns or power interruptions by installing buffer batteries and a powerful diesel generator to ensure continuous production. Both measures have proven effective during power outages.