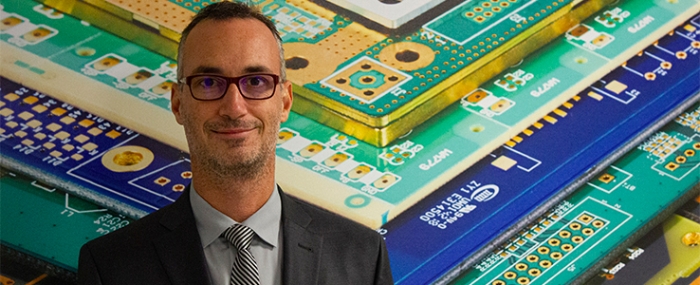 PCB |
Cyril Calvignac resigns as CEO of ICAPE Group
The global PCB supplier announces that the group's Chief Executive Officer, Cyril Calvignac, has submitted his resignation from his position as CEO and Board member.
The submission of his resignation happened in agreement with the board of directors, a press release reads. Yann Duigou, the ICAPE's current Chief Marketing Officer, will succeed Mr Calvignac as CEO, Cyril Calvignac will however continue to support the group until the end of 2023 to ensure a smooth transition.
Yann Duigou, ICAPE's current Chief Marketing Officer brings over thirty years of experience in the electronics and PCB industry to the position. Before joining ICAPE back in 2017 as Director in charge of e-commerce, he held various executive positions within the CIRE electronics group.
Cyril Calvignac has been with the group since 2003. He started his career in the group as a sales engineer, eventually working his way up to the top and stepping into the role of CEO in 2015. During his time at the helm, he notably led the company's IPO to a successful conclusion.
"I would like to offer my warmest thanks to Cyril Calvignac for the commitment he has demonstrated daily since joining our Group. Over the past 20 years, he climbed the Group's ladder by my side, one by one, and supported its structuring at the highest level, with its IPO as a major achievement. Yann has my full confidence to pursue the ambitious objectives we set ourselves within the framework of our IPO, and I am sure that his experience and expertise will be major assets to reinforce our trajectory of strong profitable growth," says Thierry Ballenghien, ICAPE group's founder and chairman of the board, in the press release.
With the changes that are already taking place at the top of the group's executive management, the board of directors have decided to make additional changes to strengthen the group. The board has appointed two new Deputy CEOs, namely Arnaud Le Coguic, who becomes Chief Financial Officer of the group, and Bingling Li Sellam, who replaces Yann Duigou as Chief Marketing Officer. Shora Rokni will see her scope extended as Chief Strategy and M&A Officer. ICAPE group's executive management is thus composed of a Chief Executive Officer, supported by five Deputy CEOs.
"I am particularly proud of the opportunity given to me today to become Chief Executive Officer, and I would like to warmly thank Thierry Ballenghien for the confidence he placed in me. Thanks to our many assets and the strengthening of our governance, I am convinced that the offensive strategy we are deploying today will consolidate our position as a key player in printed circuit board distribution," Yann Duigou, ICAPE group's current Chief Marketing Officer.