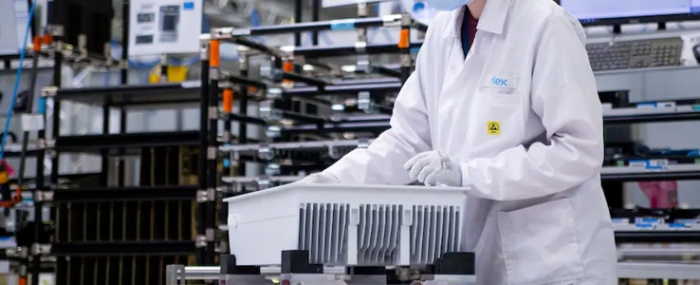 Electronics Production |
One million Ericsson 5G radio produced in Poland, exclusively for Telia
Ericsson, with its manufacturing partner Flex in Poland, has produced one million 5G radios with the millionth radio unit to be installed at Telia.
The millionth radio from Ericsson is a 5G Massive MIMO radio, known as antenna-integrated radio (AIR) solution, specifically an AIR 3278. It consumes less energy and boasts a smaller and lighter design compared to previous generations, while also offering larger bandwidth and higher capacity. AIR 3278 features an impressive Massive MIMO configuration with 32 transmit and 32 receive antennas integrated into a single radio unit.
Ericsson is providing Telia with all their 5G sites in Sweden, Norway, Estonia, and Lithuania. 5G is a catalyst for digital transformation, enabling new use cases and has the potential to elevate the home and workplace with innovation, sustainability, and security at its core.
"During the past two years sustainability has become a higher priority, especially when the electricity prices increased dramatically. One of the main focuses today when developing the radios is to reduce the size, that in turn reduces the energy consumption. Together with Telia, we continue paving the way to a sustainable future with 5G," says Daniel Ode, Acting Head of Customer Unit Northern & Central Europe, at Ericsson in a press release.
The Flex factory in Tczew, Poland is one of the main European facilities for Ericsson's 5G radio production. It produces the bulk of the volumes going to Telia´s network. The facility is a strategic part of Ericsson's global supply chain, where the company is working close to its customers through European operations.
Ericsson has a global and flexible supply chain, working close to customers through its European, Asian and American operations. The company has a global production footprint with a presence in most continents, with main production operations in the US, Brazil, Mexico, India, China, Poland, Romania, Estonia, and Malaysia (from the third quarter of 2022). Estonia and Poland are major supply facilities to deliver 5G in Europe and Brazil in Latin America.
Ericsson and Telia will continue driving new innovations together within 5G. Earlier this year, the two companies joined forces and launched their new 5G innovation program NorthStar for industrial enterprises. The NorthStar program aims to speed up the adoption and transformation of industries with 5G, by developing and implementing new digital solutions.